View Full Site
Adam Brody Bio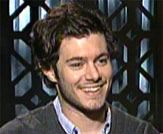 ADAM BRODY
Date of Birth: April 8, 1981
Born and raised in San Diego, California, Adam Brody told his parents that he was going to attend college in Los Angeles after graduating from high school. Once there, however, rather than enrolling in school, he took private acting classes and signed with a personal manager. Brody landed a number of roles within a short amount of time, including a guest appearance on ABC's hit TV series Once and Again, a role in an independent film called Never Land (2000) and the lead role of Barry Williams in the TV movie biography Growing Up Brady (2000). A stint on the MTV series Undressed was short lived, but Brody managed to make appearances in another independent film, The Silencing (2000), and in the MTV movie The Sausage Factory (2000), all before the year's end.
His career kept up its frenetic pace in 2001 with guest appearances on the WB series Grounded For Life and CBS's Judging Amy and Family Law. He also appeared in two more independent films, Roadside Assistance and According to Spencer, and made his big budget film debut as "High School Guy" in American Pie 2 (2001). Soon after, he was cast as the lead character Zach in the MTV series Now What?, which ran for 13 episodes. He made a guest appearance on the WB's hit series Smallville, then landed a supporting role in another big budget feature, The Ring (2002), before playing Dave for nine episodes on another WB hit, The Gilmore Girls. On The O.C., dubbed the "hottest new show of the fall" for 2003, Brody played Seth, the son of a public defender (Peter Gallagher) who takes in a teenage boy (Benjamin McKenzie) with a troubled past. For his work on the show, which came to an end in 2007, he won four Teen Choice awards.
Brody landed a starring role in the Warner Brothers big screen movie Grind (2003), playing one of a group of avid skateboarders. Since then, he's played a supporting role in Mr. and Mrs. Smith (2005), starring Angelina Jolie and Brad Pitt, and starred opposite Meg Ryan and Kristen Stewart in In the Land of Women (2007). He can be seen in the 2012 comedies Damsels in Distress and Seeking a Friend for the End of the World. More recently, he starred in the comedy Think Like a Man Too (2014), the dramedy Sleeping with Other People (2015) with Jason Sudeikis and Alison Brie, Kevin Smith's Yoga Hosers (2016) and Dax Shepard's comedy CHiPs (2017).
In real life, Brody, who lives in Los Angeles, enjoys surfing.
Filmography:
CHiPs (2017)
Yoga Hosers (2016)
Sleeping with Other People (2015)
Think Like a Man Too (2014)
Welcome to the Jungle (2013)
Revenge for Jolly! (2012)
Hemlock Drive (2012)
Damsels in Distress (2012)
Scream 4 (2011)
The Oranges (2011)
The Romantics (2011)
Cop Out (2010)
Jennifer's Body (2009)
Death in Love (2008)
Smiley Face (2007)
The Ten (2007)
In the Land of Women (2007)
Thank you for Smoking (2006)
Mr. and Mrs. Smith (2005)
Missing Brendan (2003)
Grind (2003)
The Ring (2002)
According to Spencer (2001)
American Pie 2 (2001)
Roadside Assistance (2001)
The Silencing (2000)
Never Land (2000)
<< back