View Full Site
Adam Driver Bio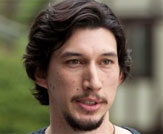 ADAM DRIVER
Date of Birth: November 19, 1983
Adam Douglas Driver was born in San Diego, California to Nancy Wright, a paralegal from Mishawaka, Indiana and Joe Douglas Driver from Little Rock, Arkansas. After his parents' divorce, he was raised in Mishawaka and attended Mishawaka High School. Adam's stepfather is a minister and his stepmother works for a library. He is of English, Irish, Scottish, German and Dutch descent.
Adam had a very religious upbringing and even sang in his church choir. While at high school, he sang in the school choir and appeared in numerous plays.
After the September 11 attacks, Adam made the decision to join the United States Marine Corps. He served for nearly three years before suffering an injury during training. He was medically discharged before he could be deployed to Iraq. Following his release, Adam enrolled at the University of Indianapolis for a year before transferring to Julliard to study drama, graduating in 2009.
Adam got his start shortly after, in New York City with appearances in Broadway and off-Broadway productions, while working as a waiter and busboy. In 2011 he made his motion picture debut with a role in J. Edgar starring Leonardo DiCaprio and directed by Clint Eastwood. He went on to play Samuel Beckwith in the Oscar-nominated picture Lincoln, starring Daniel Day-Lewis.
It was in 2012 that he was cast in Lena Dunham's comedy-drama Girls as her onscreen love interest, Adam Sackler. He originally said no to the part, because his movie career was taking off, but reconsidered. The role helped put him on the map and earned him two Primetime Emmy nominations in 2013 and 2014.
His work in the Coen Brothers' film Inside Llewyn Davis (2013) earned him an award at the 2012 Hamptons International Film Festival as Breakthrough Performer. In 2014, he won the prestigious Volpi Cup for Best Actor at the Venice Film Festival for Hungry Hearts (2014).
In April 2014, it was confirmed that Adam would star as a villain in Star Wars: The Force Awakens. The film went onto becoming the highest-grossing film of 2015. More recently, the talented actor starred in the sci-fi mystery Midnight Special (2016), the dramedy Paterson (2016), and Martin Scorsese's historical drama, Silence (2017). He also continued to work on Girls until its sixth and final season in 2017.
Adam married his longtime girlfriend, Joanne Tucker on June 22, 2013. They were both members of Julliard's Drama Division's Group 38. He also runs a not-for-profit organization called Arts in the Armed Forces, which enacts theatrical performances for military personnel.
Filmography:
Star Wars: The Last Jedi (2017)
Logan Lucky (2017)
Silence (2017)
Paterson (2016)
Midnight Special (2016)
Star Wars: The Force Awakens (2015)
Girls: The Complete Third Season (2014)
This Is Where I Leave You (2014)
While We're Young (2014)
Hungry Hearts (2014)
What If (2013)
Tracks (2013)
Girls: The Complete Second Season (2013)
Inside Llewyn Davis (2013)
Bluebird (2013)
Girls: The Complete First Season (2012)
Lincoln (2012)
Frances Ha (2012)
Not Waving But Drowning (2012)
Gayby (2012)
J. Edgar (2011)
<< back