View Full Site
Adewale Akinnuoye-Agbaje Bio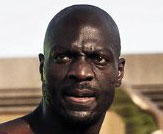 ADEWALE AKINNUOYE-AGBAJE
Date of Birth: August 22, 1967
English actor and former fashion model Adewale Akinnuoye-Agbaje was born in Islington, London, to Nigerian parents of Yoruba origin. His biological parents, who were students, gave him up to a white working-class family in Tilbury when he was only six weeks old.
His new family had taken in up to 10 African children at various times, including Adewale's two sisters. His foster father struggled to support the family by working as a truck driver. When Adewale was eight, his biological parents took him back and moved to Nigeria, but because he couldn't speak the language, they eventually returned him to Tilbury.
This brief exposure to Nigeria caused Adewale to struggle with the difference in his heritage and the English culture he was raised in. As a teenager, when he was bullied by a skinhead gang, he joined them so they would stop racially persecuting him. However, when his foster family realized the trouble he'd been getting into, including robbery, they sent him to a boarding school in Surrey. More confused than ever, he attempted suicide.
Luckily he survived, and Adewale decided to change his life around and make something of himself. While supporting his studies by working in a clothing store, he earned a Law degree from King's College London and a Masters in Law from the University of London. He also began modeling, which led him to the world of acting. Afer a couple of small TV roles, he made his feature film debut as a guide named Kahega in the 1995 Paramount feature film Congo, starring Laura Linney and Tim Curry.
Just two years later, he landed a regular role playing Simon Adebisi for three years on the hit HBO series Oz. In 2005 he gained major exposure with a role as Mr. Eko on ABC's popular survivor drama series Lost. He has also appeared in many films, including The Bourne Identity (2002), The Mummy Returns (2001), G.I. Joe: The Rise of Cobra (2009) and Annie (2014). He was in talks with Marvel Studios to play the lead role in the superhero film Black Panther, but lost the role to Chadwick Boseman.
Instead, he landed a role as Kurse in Marvel's Thor: The Dark World (2013) and then was cast as Killer Croc in Warner Bros. hit super villain movie Suicide Squad (2016) based on the DC comics. On television he has also played recurring and/or regular roles in the TV series Hunter (2012), American Odyssey (2015) and Game of Thrones (2015).
Adewale, who considers himself a Buddhist, is fluent in several languages including Yoruba, Italian, and Swahili.
Filmography:
Suicide Squad (2016)
Bilal (2016)
Concussion (2015)
Trumbo (2015)
Annie (2014)
Pompeii (2014)
The Inevitable Defeat of Mister & Pete (2013)
Thor: The Dark World (2013)
Bullet to the Head (2013)
Best Laid Plans (2012)
The Thing (2011)
Killer Elite (2011)
Faster (2010)
G.I. Joe: The Rise of Cobra (2009)
Get Rich or Die Tryin' (2005)
Be the One (Preaching to the Choir) (2005)
The Mistress of Spices (2005)
Unstoppable (2004)
The Bourne Identity (2002)
Lip Service (2001)
The Mummy Returns (2001)
Enslavement: The True Story of Fanny Kemble (2000)
Legionnaire (1998)
The Deadly Voyage (1996)
Ace Ventura: When Nature Calls (1995)
Delta of Venus (1995)
Congo (1995)
<< back