View Full Site
Adrien Brody Bio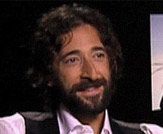 ADRIEN BRODY
Date of Birth: April 14, 1973
Born and raised in New York City, Brody always wanted to be an actor. When he was 12, he got his first taste of performing while working as a magician at children's parties. With the encouragement of his photographer mother, Brody signed up for acting classes, and attended both the American Academy of Dramatic Arts and the High School for the Performing Arts.
He began his career in off-Broadway productions and made his television debut in the 1988 PBS movie Home at Last. After his debut, Brody went back to school and attended a year of college. In 1993, he was cast as the lead character's delinquent mentor, in the drama King of the Hill. The film met with wide critical acclaim and presented the actor with new opportunities.
Brody won roles in several films including 1994's Angels in the Outfield and 1997's The Last Time I Committed Suicide. With his 1999 Vanity Fair cover and principal roles in two highly anticipated films, The Thin Red Line (1998) and Summer of Sam (1999), Brody seemed perfectly positioned to step into the limelight. Brody's work in The Pianist guaranteed him not only stardom, but critical respect as he won an Oscar for his lead role in the film.
Since then, he's taken on the challenging role of a mentally-challenged man in The Village (2004), played the starring role in the military-themed thriller The Jacket (2005) and starred opposite Sarah Polley in the sci-Fi thriller Splice (2010).
His recent projects include the drama Detachment (2012) where he plays the role of a substitute teacher, the comedy High School (2012) about a student who tries to get his whole school high before a random drug test to avoid being busted for smoking pot himself, and Back to 1942 (2012) where he plays the part of an American journalist in China during World War II. He can now be seen in the war drama Septembers of Shiraz (2016), the crime drama Manhattan Night (2016), and the adventure thriller Emperor (2016).
* 2002 Actor in a Leading Role Oscar winner for The Pianist.
Filmography:
Manhattan Night (2016)
Septembers of Shiraz (2016)
Back to 1942 (2012)
Midnight in Paris (2011)
Detachment (2011)
Wrecked (2010)
The Experiment (2010)
Predators (2010)
High School (2010)
Fantastic Mr. Fox (2009) voice
Splice (2009)
Giallo (2009)
Cadillac Records (2008)
The Brothers Bloom (2008)
Manolete (2008)
The Darjeeling Limited (2007)
Hollywoodland (2006)
King Kong (2005)
The Jacket (2005)
The Village (2004)
The Singing Detective (2003)
The Pianist (2002)
Dummy (2002)
The Affair of the Necklace (2001)
Love the Hard Way (2001)
Harrison's Flowers (2000)
Bread and Roses (2000)
Liberty Heights (1999)
Summer of Sam (1999)
Oxygen (1999)
Restaurant (1998)
Six Ways to Sunday (1997)
The Last Time I Committed Suicide (1997)
Bullet (1996)
Nothing to Lose (1995)

<< back