View Full Site
Alan Cumming Bio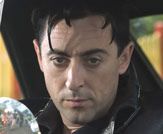 ALAN CUMMING
Date of Birth: January 27, 1965
Born in Perthshire, Scotland, Cumming studied drama at the Royal Scottish Academy of Music and Drama before embarking on a career that would have its roots on the stage. For years, Cumming worked steadily in theater as a member of repertory companies such as the Royal Shakespeare Company.
In 1992, he had his film debut in the largely unheard of Prague, which was essentially a historical overview of the city. American audiences were first introduced to him in 1994 when he lent his voice to the dark stallion in Black Beauty. It wasn't until 1995 that viewers actually got to see him in his small but memorable role as a Russian computer programmer in Goldeneye.
Wider exposure followed, thanks to two successful films and one role. In both, Circle of Friends (1995) and Emma (1996), Cumming played a slimy, unwelcome suitor to the star of each film.
More sympathetic roles followed, but it wasn't until his work in Spice World (1998), and a role in theater—Cabaret, that Cumming received critical acclaim, a host of awards, and the wider respect he deserved. In his theater role, Cumming managed to make the character, Emcee, all his own, giving a wickedly delicious performance that was unabashedly dark, sly, androgynous, and altogether terrifying. His performance won him all three New York theater awards: a Tony, a Drama Desk, and an Outer Critics Circle.
The success allowed Hollywood to finally see this Scottish, versatile and chameleon-like actor for what he was. This triumph resulted in a new range of opportunities for the actor, such as the chance to be a part of Eyes Wide Shut (1999), Spy Kids (2001), X2: X-Men United (2003) and X-Men 3 (2006).
His eight-year marriage to actress Hilary Lyon ended in divorce in 1993. Now openly gay, he married movie artist Grant Shaffer in 2007. His first novel, Tommy's Tale, was published in 2002.
<< back