View Full Site
Alan Ritchson Bio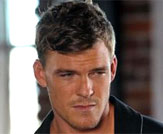 Alan Ritchson
Date of Birth: November 28, 1984
A mix of Czech, English and German, Alan Ritchson was born in Grand Forks, North Dakota.
The middle child in a military family, as with many other children who became actors, Alan was constantly relocating, but found comfort and fulfillment in entertaining audiences.
Alan took his passion for acting to Los Angeles, where his career soon got off to a strong start, receiving wide attention with a role as Arthur Curry/Aquament on the hit series Smallville. He started work on the show, which starred Tom Welling, in 2005 and appeared on it until 2010.
In 2006, he played a small role in the TV movie Though None Go with Me. The same year, he made his first feature with the horror The Butcher.
In 2007, Alan appeared in the drama Steam alongside Ally Sheedy.
He followed that up with roles in Rex and Fired Up!, as well as parts on the TV movie Midnight Bayou and the TV series CSI: Miami.
Playing Tripp Willinson, Alan appeared in an episode of 90210 in 2011, followed by an appearance in the role of Freddie Hart on a 2013 episode of Hawaii Five-0.
The same year, Alan took to the screen in his biggest picture yet. Alongside Jennifer Lawrence, Josh Hutcherson and Liam Hemsworth, he appeared as District 1 victor Gloss in The Hunger Games: Catching Fire.
Alan capitalized on his role in the widely successful film with another part in a big budget movie. He played Raphael in 2014's Teenage Mutant Ninja Turtles before heading back to TV to star in New Girl.
In 2015, he acted with Kevin Hart and Josh Gad in the comedy The Wedding Ringer, before returning to the role of Raphael in the 2016 sequel Teenage Mutant Ninja Turtles: Out of the Shadows.
In addition to his acting endeavors, Alan also writes, produces and is a singer/songwriter. He has been married to his wife Catherine since 2006, and together they have three children.
Filmography:
Teenage Mutant Ninja Turtles: Out of the Shadows (2016)
Blue Mountain State: The Rise of Thadland (2016)
Lazer Team (2015)
The Wedding Ringer (2015)
Teenage Mutant Ninja Turtles (2014)
The Hunger Games: Catching Fire (2013)
Fired Up! (2009)
Rex (2008)
Steam (2007)
The Butcher (2006)
<< back