View Full Site
Alexandra Shipp Bio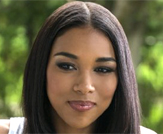 ALEXANDRA SHIPP
Date of Birth: July 16, 1991
Growing up in Phoenix, Arizona, Alexandra Shipp began performing in plays at a young age. She met her manager when she was 14 years old and her very first audition was for Nickelodeon.
She would move to Los Angeles when she was 17 to pursue her acting career and made her movie debut in Alvin and the Chipmunks: The Squeakquel (2009), in the role of Valentina. Following guest appearances on youth-oriented shows such as Switched at Birth and Victorious, Alexandra landed a regular role on the Nickelodeon TV series House of Anubis, set in an English boarding school. More guest appearances followed, on Ray Donovan and Days of Our Lives, as well as roles in TV movies such as Drumline: A New Beat, in which she starred alongside Nick Cannon and and the biopic Aaliyah: The Princess of R&B, playing the title role of Aaliyah Haughton.
In 2015, it was announced that she would be playing Storm in the upcoming major motion picture X-Men: Apocalypse (2016). She has also completed a role in Universal Pictures' Straight Outta Compton (2015), starring Paul Giamatti.
Alexandra is also currently working on releasing an EP.
Filmography:
X-Men: Apocalypse (2016)
Straight Outta Compton (2015)
Alvin and the Chipmunks: The Squeakquel (2009)
<< back