View Full Site
Alfred Molina Bio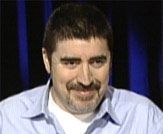 ALFRED MOLINA
Date of Birth: May 24, 1953
Alfred Molina was born in London, England to a Spanish father and an Italian mother. He studied at London's Guildhall School of Music and Drama before going on to appear with the Royal National Theatre in plays such as Night of the Iguana and Speed the Plow.
His first onscreen credit came in 1978 with a regular role in the British series, The Losers. Although his feature film debut was a small (and uncredited) role in A Nightingale Sang in Berkeley Square (1979), his first credited role came with the blockbuster Raiders of the Lost Ark (1981), in which he played the double-crossing guide who almost gets the golden idol from Indiana Jones, played by Harrison Ford.
Molina's next role in a major film was playing Cezar in Ladyhawke (1985), alongside Michelle Pfeiffer and Matthew Broderick. He has worked steadily since then, appearing both in features and TV movies. One of his most memorable roles was as Sally Field's abusive husband, who kidnaps their daughter and takes her to Iran in the drama Not Without My Daughter (1991). He had a much more sympathetic role in Enchanted April (1992) as a stuffy British man who relaxes and mellows after arriving at a sunny Italian villa. Known as a character actor with an ability to play a wide range of roles, he played the dastardly Snidely Whiplash in the comedy Dudley Do Right (1999) and the narrow-minded mayor of a small French town who tries to shut down a chocolate shop in Chocolat (2000). On television, he was the fussy Belgian detective Hercule Poirot in a remake of Agatha Christie's Murder on the Orient Express (2001). In Frida (2002), he played the role of real-life Mexican artist Diego Rivera and won a 2003 Imagen award for Best Actor.
In 2006, he played the plum role of Bishop Aringarosa in the highly-touted The Da Vinci Code, starring Tom Hanks. Molina made his Broadway debut in Art in 1998, receiving a Tony Award nomination and a Drama Desk Award for his performance. Mostly recently, he provided a voice for the animated feature Rango (2011), starring Johnny Depp.
Molina lives in Los Angeles with his wife, British actress Jill Gascoine.
<< back