View Full Site
Amy Ryan Bio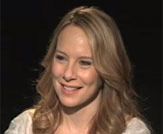 AMY RYAN
Date of Birth: November 30, 1969
Born in Queens, NYC, Amy Ryan attended New York's High School of Performance Arts and also studied at the Stagedoor Manor Performing Arts Training Center. Straight out of high school, Ryan was hired for the national tour of Neil Simon's play Biloxi Blues.
For the next few years, she worked steadily in theater. She made her Broadway debut in 1993 and received her first Tony Award nomination in 2000, for her portrayal of Sonya in Uncle Vanya. She received a second Tony Award nomination in 2005 for her role as Stella in A Streetcar Named Desire.
Ryan made her TV debut on the soap opera As the World Turns. Other TV performances include Quantump Leap, Home Improvement, I'll Fly Away, ER, Chicago Hope, Homicide: Life on the Street and several versions of Law & Order.
Her film debut was in the small budget effort, Roberta (1999), which screened at Sundance but was never released to theaters. The following year she played a supporting role in the award-winning You Can Count on Me (2000), starring Mark Ruffalo, Matthew Broderick and Laura Linney. In the thriller Keane (2004), she played Abigail Breslin's mother, followed by a small role in Steven Spielberg's War of the Worlds (2005). In the multi-award winning Capote (2005) starring Philip Seymour Hoffman, Ryan played Marie Dewey.
In 2007, she shared a Best Ensemble Cast at the Gotham Awards for Before the Devil Knows You're Dead, but it wasn't until Gone Baby Gone (2007) that she earned the ultimate recognition for a screen actress: an Academy Award nomination for Best Performance by an Actress in a Supporting Role. Since then, she's appeared alongside Angelina Jolie in Changeling (2008), Matt Damon in Green Zone (2010), and Michael Keaton in Birdman (2014).
Ryan can recently been seen alongside Dwayne "The Rock" Johnson and Kevin Hart in the buddy cop comedy Central Intelligence (2016), alongside Bryan Cranston in the biopic The Infiltrator (2016), and in Monster Trucks (2017), starring Lucas Till.
Filmography:
Abundant Acreage Available (2017)
Monster Trucks (2017)
The Infiltrator (2016)
Central Intelligence (2016)
Bridge of Spies (2015)
 Goosebumps (2015)
 Louder Than Bombs (2015)
Don Verdean (2015)
Birdman or (The Unexpected Virtue of Ignorance) (2014)
Devil's Knot (2013)
Escape Plan (2013)
Breathe In (2013)
Jack Goes Boating (2010)
Green Zone (2010)
The Missing Person (2008)
Bob Funk (2008)
Changeling (2008)
Bob Funk (2008)
The Missing Person (2008)
Dan in Real Life (2007)
Neal Cassady (2007)
Before the Devil Knows You're Dead (2007)
Gone Baby Gone (2007)
Marvelous (2006)
Capote (2005)
War of the Worlds (2005)
Keane (2004)
You Can Count on Me (2000)
Roberta (1999)
<< back