View Full Site
Angela Lansbury Bio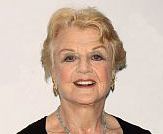 ANGELA LANSBURY
Birth Name: Angela Brigit MacGill Lansbury
Date of Birth: October 16, 1925
Born in London, England, Lansbury was the granddaughter of the British Labour Party Leader, and daughter of a well-known actress. She began her training at the Webber-Douglas School of Singing and Dramatic Art, followed by the Feagin School of Drama and Radio. When World War II hit, she was evacuated to the States where she completed her training.
By the time she was 17, she landed her first feature film role in Gaslight (1944). Playing a Cockney maid, Lansbury earned praise from the critics, her first Oscar nomination and a contract with MGM studios. The following year, she received her second Oscar nomination for her work in The Picture of Dorian Gray (1945).
Lansbury spent the following decade showcasing her versatile acting abilities playing, among other roles, the evil-with-a-heart-of-gold saloon singer in The Harvey Girls (1946), the manipulative publisher in State of the Union (1948), the good queen in The Three Musketeers (1948) and the petulant daughter in The Court Jester (1956).
Her third Academy Award nomination came in 1962 with a stunning performance playing the chilling mother in The Manchurian Candidate. When her house burnt down in the late '60s, Lansbury moved to Ireland, but returned to the States to display her other talents, stage acting and singing. During the next few years, she earned four Tony Awards. The '70s also saw her in one of her most popular roles, the witch-in-training in Bedknobs and Broomsticks (1971).
In 1984 she struck gold in television starring in the hugely popular mystery series, Murder, She Wrote. Inspired by the telefilm, The Murder of Sherlock Holmes in which Lansbury played the writer/detective Jessica Fletcher, Murder, She Wrote went on for 12 years and earned her 12 Emmy nominations and 10 Golden Globe nominations (winning four).
Although the show ended in 1994, Lansbury continued playing her most famous character in a number of Murder, She Wrote telefilms. She also worked on other projects such as voicing Mrs. Potts in the Disney classic animated film Beauty and the Beast (1991), the Christmas telefilm, Mrs. Santa Clause, and voicing the Dowager Empress Marie in Anastasia (1997). In 2006, she played Great Aunt Adelaide in Nanny McPhee (2005). She also recently starred as Mrs. Van Gundy in Mr. Popper's Penguins (2011).
She first married actor Richard Cromwell in 1945, but the marriage didn't last the year. She then married Peter Shaw. She and Shaw had one son, Anthony, together. Lansbury has been awarded an honorary C.B.E. from the British Government through Queen Elizabeth II. She's also received the Disney Legend award, several lifetime achievement awards including one from the Screen Actors Guild, was made Honorary Chairman of the American Theatre Wing in 2010, and has two stars on the Hollywood Walk of Fame.
<< back