View Full Site
Antje Traue Bio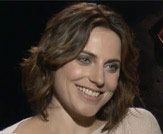 ANTJE TRAUE
Date of Birth: January 18, 1981
Born in Mittweida, Germany, Antje Traue discovered her love for acting at an early age. When she was a teenager, she attended the International Munich Art Lab and was soon cast, at age 16, as the lead in the play West End Opera. This gave her the opportunity to tour throughout Europe and to New York for four years with the ensemble cast.
In 2002, Traue made the move to Berlin where she landed feature film and television roles, including Berlin am Meer and Phantomschemerz.
Traue's first English speaking role came in 2008, when she was cast as the female lead in the international science fiction film Pandorum, starring alongside Dennis Quaid and Ben Foster.
She is set to appear in the highly-anticipated Superman reboot Man of Steel as Faora, General Zod's fierce female minion. Traue has also recently been cast in an upcoming Hercules film, directed by Brett Ratner.
FILMOGRAPHY
Hercules (2014)
Seventh Son (2013)
Man of Steel (2013)
Nobel's Last Will (2012)
5 Days of War (2011)
Pandorum (2009)
Phantom Pain (2009)
Berlin am Meer (2008)
Kleinruppin Forever (2004)
<< back