View Full Site
Antonio Banderas Bio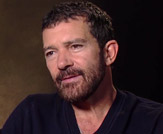 ANTONIO BANDERAS
Birth Name: José Antonio Dominguez Banderas
Date of Birth: August 10, 1960
Born in Malaga, Spain, a place where rich Britons would go to escape a 95 per cent tax on inherited wealth, also known as "unearned income," perhaps Antonio was destined to become a darling of the jet set, the wealthy, the gliterazzi, the Hollywood actresses. Of course, we know him as the ex-husband of Melanie Griffith. Some may also remember Madonna propositioning him in the 1991 film Truth or Dare. The gentleman, by the way, did not take her up on it.
At only 14, Antonio was working at a theater company in Malaga, and a few years later went to Madrid to join the National Theatre of Spain. He made his American film debut in 1992 in The Mambo Kings, having to learn his lines phonetically since he spoke no English at the time.
He continued his career with films that included Interview With a Vampire, adding a magnetic, swarthy charm that captured the hearts of women everywhere. By 1995, Melanie was playing opposite him in Too Much, and carrying her heady romance with this quintessential Latin lover into full public view. They were eventually married and now have a daughter, Stella del Carmen.
Since then, Banderas has appeared in Desperado, Assassins, and Never Talk to Strangers, films that did not do well at the box office. At last Madonna got her wish (in part), as he was cast in the musical Evita. By that time, she was pregnant with Lourdes and claimed she was no longer interested.
In Evita, Antonio's voice was not dubbed; he sang the songs himself, a new venture for the actor and something he enjoyed thoroughly. Antonio Banderas appeared in The 13th Warrior (1999), a film based on the book by Michael Crichton, then went on to star in the highly successfuly Spy Kids trilogy. He went on to appear in the Broadway revival of the musical Nine and received a Tony Award nomination for his performance.
He has also won the hearts of moviegoers by providing the voice of Puss in Boots in the Shrek movies, which spawned an entire feature-film for the character in 2011. Banderas can be also be seen in films The Skin I Live In (2011), Haywire (2012), Ruby Sparks (2012) and Machete Kills(2013) alongside Danny Trejo and Sofia Vergara.
More recently he starred in the major motion picture The 33, about the Chilean mine collapse in which 33 miners were trapped underground for months, and Finding Altamira (2016), another true story about an amateur archaeologist whose discovery in the Cave of Altamira changed the course of religion and science.
In 2014, Melanie Griffith filed for divorce from Antonio, citing "irreconcilable differences." They have a daughter, Stella, together. Antonio is currently dating Nicole Kimpel, 20 years his junior.
Filmography:
Black Butterfly (2016)
Finding Altamira (2016)
The 33 (2015)
Knight of Cups (2015)
The Expendables 3 (2014)
I'm So Excited! (2013)
Machete Kills (2013)
Haywire (2012)
Ruby Sparks (2012)
Black Gold (2011)
Puss in Boots (2011)
Spy Kids: All the Time in the World (2011)
Haywire (2011)
La piel que habito (2011)
The Big Bang (2010)
You Will Meet a Tall Dark Stranger (2010)
Shrek Forever After (2010)
Thick as Thieves (2009)
The Other Man (2008)
My Mom's New Boyfriend (2007)
Shrek the Third (2007)
Bordertown (2006)
Take the Lead (2006)
The Legend of Zorro (2005)
Shrek 2 (2004)
Imagining Argentina (2003)
Spy Kids 3-D: Game Over (2003)
Once Upon a Time in Mexico (2003)
Frida (2002)
Ballistic: Ecks vs. Sever (2002)
Femme Fatale (2002)
Spy Kids 2: The Island of Lost Dreams (2002)
Original Sin (2001)
Spy Kids (2001)
The Body (2001)
The Sparrow (2000)
Play it to the Bone (1999)
The White River Kid (1999)
The 13th Warrior (1999)
The Mask of Zorro (1998)
Evita (1996)
Two Much (1996)
Assassins (1995)
Desperado (1995)
Four Rooms (1995)
Miami Rhapsody (1995)
Never Talk to Strangers (1995)
Interview with the Vampire: The Vampire Chronicles (1994)
Of Love and Shadows (1994)
The House of the Spirits (1993)
Philadelphia (1993)
Outrage (1993)
The Mambo Kings (1992)
Shoot (1992)
A Woman in the Rain (1992)
Borges Tales Part 1 (1991)
Terra Nova (1991)
Madonna Truth or Dare (1991)
The White Dove (1991)
Contra el Viento (1990)
Tie Me Up! Tie Me Down! (1990)
Going South Shopping (1989)
If They Tell You I Fell (1989)
Baton Rouge (1988)
Women on the Verge of a Nervous Breakdown (1988)
The Way They Were (1987)
Law of Desire (1987)
The Pleasure of Killing (1987)
27 Horas (1986)
Matador (1986)
Casa Cerrado (1985)
La Corte de Faraon (1985)
Requiem por un Campesino Espanol (1985)
El Caso Almeria (1984)
The Stilts (1984)
El Senor Galindez (1983)
Labyrinth of Passion (1982)
Pestanas Postizas (1982)
<< back