View Full Site
Anya Taylor-Joy Bio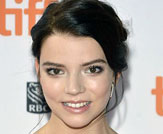 ANYA TAYLOR-JOY
Date of Birth: April 16, 1996
The youngest of six children, Anya Taylor-Joy was born to a Spanish-English mother and Scottish-Argentinian father in Miami. From the time she was born, she lived between Argentina and England.
Anya first stepped in front of the camera when she landed a modeling gig. Shortly after, she tried her hand at acting.
In 2014, she won a guest role on an episode of the crime drama series Endeavour.
With 2015's The Witch, she celebrated her breakout moment. In the chilling horror film, Anya played Thomasin, the eldest daughter in a Puritan family threatened by witchcraft. The movie was a favorite on the festival circuit and picked up an award at Sundance.
In the same year, she also acted in the TV movie Viking Quest and won a supporting role in the series Atlantis. She portrayed the character Cassandra and appeared in five episodes of the fantasy show.
Most recently, Anya starred alongside Kate Mara and Jennifer Jason Leigh in the mystery movie Morgan and the Barack Obama biopic Barry with Ashley Judd. Both films are 2016 releases.
In 2017, she's acted in three films: Split, Thoroughbred, and Marrowbone.
Anya, who has always wanted to be an actress, looks up to Saoirse Ronan.
Photo courtesy © wenn.com/KEYSTONE Press
Filmography:
Marrowbone (2017)
Thoroughbred (2017)
Split (2017)
Barry (2016)
Morgan (2016)
The Witch (2015)
<< back