View Full Site
Ben Affleck Bio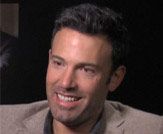 BEN AFFLECK
Date of Birth: August 15, 1972
Ben Affleck is one-half of 1997's "out of nowhere" story of the year. He and boyhood buddy Matt Damon won unanimous raves for their work in their self-scripted smash, Good Will Hunting.
Winning an Oscar for Best Screenplay, the script for Good Will Hunting was written way back in 1994—when Affleck and Damon were still nobodies. When it came time to shoot, the lead role was decided by a coin toss. Damon got the lead (and an Oscar nomination for Best Actor), and Affleck took the less showy role of the best friend. His speech to Damon's character is the turning point (and highlight) of the film.
Born in Berkeley, California, but raised in Cambridge, Massachusetts, Affleck got his first acting job at age eight as a regular on the PBS series The Voyage Of the Mimi. Hanging out with Damon, they tried out for every movie shot in nearby Boston. Eventually heading back out west to study at Occidental College, he made his movie debut in 1992's School Ties.
After playing the high school bully in Richard Linklater's sophomore feature, Dazed And Confused, Affleck made the most important connection in his career (next to Damon, of course). He played a small role in Kevin Smith's Mallrats, which led to his being cast in the lead role for Smith's next film, Chasing Amy. Smith was also the guy who convinced Mirimax boss Harvey Weinstein to produce Good Will Hunting. Damon and Affleck later worked together again in Dogma (1999), written and directed by Smith.
In 1998, Ben was cast in the one of the year's greatest films, Shakespeare In Love. He played stage actor Ned Alleyn and was awarded Funnest Supporting actor by the American Comedy Awards. Aside from the award, Affleck left the film with a new girlfriend, namely the film's Best Actress Oscar winner, Gwyneth Paltrow. Unfortunately the union was a short-lived one, and Affleck began dating Jennifer Lopez in 2001 after working with her in Gigli (2003). The high profile couple became engaged in November 2002, but the relationship fell apart and by January 2004, they had broken up.
He received his first Golden Globe nomination in 2007 for his role in Hollywoodland (2006). That same year, he won Breakthrough Director of the Year at the Hollywood Film Festival and a Best Directorial Debut award from the National Board of Review for Gone Baby Gone (2007). His second feature as a director, The Town (2010), received high praise from critics when it screened at the 2010 Toronto International Film Festival. His third film, Argo, received critical acclaim from many festivals and awards shows, including receiving a Best Picture Academy Award in 2013 and a Best Director Golden Globe award. He most recently starred as Nick Dunne in Gone Girl, as Batman in Batman v. Superman: Dawn of Justice, as Chris in The Accountant (2016), and Joe Coughlin in Live By Night (2017), which he also directed.
Ben married Jennifer Garner on June 29, 2005, whom he met when they co-starred in Daredevil (2003). Their first child, a daughter, was born later that same year. Their second daughter was born in January 2009. Their youngest child, Samuel, was born in 2012, but by 2015, they had filed for divorce.
Filmography (Actor):
Live By Night (2017)
The Accountant (2016)
Batman v. Superman: Dawn of Justice (2016)
Gone Girl (2014)
Runner Runner (2013)
To the Wonder (2012)
Argo (2012)
The Town (2010)
The Company Men (2010)
Extract (2009)
State of Play (2009)
He's Just Not That Into You (2009)
Smokin' Aces (2006)
Hollywoodland (2006)
Clerks II (2006)
Man About Town (2006)
Surviving Christmas (2004)
Jersey Girl (2004)
Paycheck (2003)
Gigli (2003)
Daredevil (2003)
The Third Wheel (2002)
The Sum of All Fears (2002)
Changing Lanes (2002)
Jay and Silent Bob Strike Back (2001)
Daddy and Them (2001)
Pearl Harbor (2001)
Bounce (2000)
Joseph: King of Dreams (2001)
Reindeer Games (2000)
Boiler Room (2000)
Dogma (1999)
Forces of Nature (1999)
200 Cigarettes (1999)
Shakespeare in Love (1998)
Armageddon (1998)
Phantoms (1998)
Good Will Hunting (1997)
Office Killer (1997)
Chasing Amy (1997)
Going All the Way (1997)
Glory Daze (1995)
Mallrats (1995)
Dazed and Confused (1993)
School Ties (1992)
Buffy the Vampire Slayer (1992)
Daddy (1991)
Field of Dreams (1989)
Hands of a Stranger (1987)
The Dark End of the Street (1981)
Filmography (Director):
Argo (2012)
The Town (2010)
Gone Baby Gone (2007)
<< back