View Full Site
Ben Kingsley Bio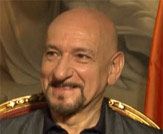 BEN KINGSLEY
Date of Birth: December 31, 1943
This chameleon-like Yorkshire, English actor has proven he can play just about anyone, from Nazi war criminal to Jewish Holocaust survivor. The son of a general practitioner, Kingsley was educated at Manchester Grammar School and started out in amateur theatricals in Manchester before making his professional debut at age 23.
In 1967 he made his first London appearance at the Aldwych theatre and then joined the Royal Shakespeare Company, devoting himself almost exclusively to stage work for the next 15 years.
American audiences first saw Kingsley in 1971 when he made his Broadway debut with the Royal Shakespeare Company. In 1982, director Richard Attenborough selected Kingsley for the title role in the epic Gandhi. The film was a great success and swept the international awards that year, earning 39-year-old Kingsley a Best Actor Oscar.
Kingsley spent the next decade playing a wide spectrum of characters in films like Harem (1985), Pascali's Island (1988), Bugsy (1992) and Schindler's List (1993).
In the latter half of the 1990s, Kingsley continued to embrace a variety of eclectic roles, with turns as the Fool in the 1996 film adaptation of Twelfth Night, and the barbarous barber in The Tale of Sweeney Todd (1998). Kingsley also took Broadway by storm with his one-man show Edward Kean, which was directed by his wife Alison Sutcliffe.
In 2002, he earned his third Oscar nomination (second for Best Actor) for his performance in Sexy Beast (2001). He was knighted by Queen Elizabeth in 2001. In 2004, he was nominated for both a Golden Globe and an Oscar for his outstanding performance in House of Sand and Fog (2003). He continues to earn award nominations with critically acclaimed performances in films such as You Kill Me (2007) and the TV movie Mrs. Harris (2005). Although Kingsley usually does serious roles, he took on comedy when he signed on to play a part in the Sacha Baron Cohen film The Dictator (2012). He starred in Exodus: Gods and Kings (2014) and more recently, in Self/less (2015) and The Walk (2015). He also provided the voice of Bagheera in The Jungle Book (2016).
Ben has four children: two with his first wife, Angela Morant (1966 to 1972) and two with his second wife, Alison Sutcliffe (1978 to 1992). He is divorced from third wife, Alexandra Christmann.
Filmography:
The Jungle Book (2016)
Collide (2015)
Dragonheart 3: The Sorcerer's Curse (2015)
Learning to Drive (2015)
Self/less (2015)
The Walk (2015)
Life (2015)
The Boxtrolls (2014)
Exodus: Gods and Kings (2014)
Night at the Museum: Secret of the Tomb (2014)
Stonehearst Asylum (2014)
Iron Man 3 (2013)
Ender's Game (2013)
Noah's Arc: The New Beginning (2012) (voice)
The Dictator (2012)
Hugo (2011)
Number 13 (2011)
Noah's Ark: The New Beginning (2010)
Teen Patti (2010)
Prince of Persia: The Sands of Time (2010)
Shutter Island (2010)
Fifty Dead Men Walking (2009)
The Wackness (2008)
Number 13 (2008)
The Love Guru (2008)
Elegy (2007)
War, Inc. (2007)
Transsiberian (2007)
The Ten Commandments (2007) (voice)
The Last Legion (2007)
You Kill Me (2007)
Lucky Number Slevin (2005)
Mrs. Harris (2005)
Bloodrayne (2005)
Oliver Twist (2005)
A Sound of Thunder (2005)
Thunderbirds (2004)
Suspect Zero (2004)
House of Sand and Fog (2003)
Tuck Everlasting (2002)
The Triumph of Love (2001)
A.I. Artificial Intelligence (2001) (voice)
Sexy Beast (2001)
Rules of Engagement (2000)
What Planet Are You From? (2000)
Till the End of Time (2000)
The Confession (1999)
A Force More Powerful (1999) (voice)
Peace Is Every Step: Meditation in Action: The Life and Work of Thich Nhat Hanh (1999)(voice)
Spooky House (1999)
Parting Shots (1998)
Photographing Fairies (1997)
The Assignment (1997)
War Symphonies - Sjostakovitsj (1997)
Twelfth Night: Or What You Will (1996)
Species (1995)
Death and the Maiden (1994)
Liberation (1994) (voice)
Schindler's List (1993)
Dave (1993)
Searching for Bobby Fischer (1993)
Freddie as F.R.O.7 (1992) (voice)
Sneakers (1992)
L'Amore necessario (1991)
Bugsy (1991)
The Children (1990)
Quinto Macaco, O (1990)
Romeo-Juliet (1990) (voice)
Vita scellerata, Una (1990)
Slipstream (1989)
Pascali's Island (1988)
Testimony (1988)
Without a Clue (1988)
Maurice (1987)
Harem (1985)
Turtle Diary (1985)
Betrayal (1983)
Gandhi (1982)
Fear Is the Key (1972)
<< back