View Full Site
Billy Zane Bio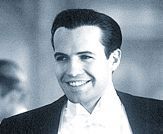 BILLY ZANE
Date of Birth: February 24, 1966
Born in Chicago, Illinois, Zane attended Harand Camp of the Theater Arts, located in Elkhart Lake, Wisconsin along with Jeremy Piven, and attended The American School in Switzerland for his sophmore year of high school. Zane knew exactly what he wanted to do as a career, and moved to Hollywood after high school. But not before he started his stage career in his hometown.
Zane's theatre credits include performances in American Music at the Second Stage Theatre and The Boys in the Backroom with Tim Robbins' experimental group, The Actor's Gang.
Three weeks in Hollywood and Zane already landed a small role in the blockbuster Back to the Future (1985), playing one of Biff's bullies.
Zane also found work on the small screen, including a starring role in the 1986 television movie, The Brotherhood of Justice with Kiefer Sutherland. In addition, Zane portrayed serial killer Kenneth Bianchi in the highly-acclaimed telefilm, Two of a Kind: The Case of the Hillside Strangler. He also starred in six episodes of David Lynch's internationally acclaimed series, Twin Peaks.
Able to harness his spoiled-brat countenance and quirky gestures to invoke either sympathy or repulsion, Zane has been seen principally in secondary roles in such films as Memphis Belle (1990), Orlando (1992), and Posse (1993).
For his role in the Australian suspense thriller film Dead Calm, Zane captured praise from critics and audiences alike. He would shine again as the villain in the comical horror Demon Knight, based on the award-winning television show Tales from the Crypt.
Zane's turn as the comic book hero The Phantom (1996) turned out to be a big disappointment, but luckily for Zane, he came back with flying colors playing Cal in the mega-hit, award-winning film Titanic (1997). Audiences loved him in his role, and he was nominated by the Blockbuster Movie Awards for best villain and won a Blockbuster Entertainment Award for favorite supporting actor. The film was also re-released in 2012 in 3D. Zane has also got a long list of titles lined up for 2012, although not all of them are set-up for a North American release. Most recently, he can be seen in Zoolander 2 (2016).
Married to actress Lisa Collins in 1988, the two were divorced in 1995. He was then engaged to actress Leonor Varela, whom he met while filming the 1999 telefilm Cleopatra, but the relationship has since ended. Zane currently lives in Los Angeles.
Filmography:
Zoolander 2 (2016)
Dark Star Hollow (2012)
The Ghost of Goodnight Lane (2012)
The Employer (2012)
Two Jacks (2012)
The Mule (2012)
Electrick Children (2012)
Flutter (2012)
The Kill Hole (2011)
S.O.S Love! The Million Dollar Contract (2011)
Mysteria (2011)
Mercenaries (2011)
Sniper: Reloaded (2011)
The Roommate (2011)
Mama I Want to Sing (2011)
Guido (2011)
The Confidant (2011)
Enemies Among Us (2011)
Magic Man (2010)
Darfur (2009)
Evil - In the Time of Heroes (2009)
The Gold Retrievers (2009)
Surviving Evil (2009)
The Hessen Affair (2009)
Love N' Dancing (2009)
The Man Who Came Back (2008)
Perfect Hideout (2008)
Fishtales (2007)
The Mad (2007)
Memory (2006)
The Pleasure Drivers (2006)
Valley of the Wolves: Iraq (2006)
The Last Drop (2006)
Three (2006)
Mem-o-re (2005)
BloodRayne (2005)
CQ (2002)
The Believer (2001)
Claim (2001)
Morgan's Ferry (1999)
Taxman (1999)
Susan's Plan (1998)
I Woke Up Early the Day I Died (1998)
Pocahontas II: Journey to a New World (1998) (V) (voice)
Titanic (1997)
This World, Then the Fireworks (1997)
Danger Zone (1996)
Head Above Water (1996)
The Phantom (1996)
The Set Up (1995)
Demon Knight (1995)
Reflections on a Crime (1994)
Only You (1994)
The Silence of the Hams (1994)
Betrayal of the Dove (1993)
Flashfire (1993)
Poetic Justice (1993)
Posse (1993)
Tombstone (1993)
Sniper (1993)
Orlando (1992)
Femme Fatale (1991)
Miliardi\Millions (1991)
Blood and Concrete (1991)
Megaville (1990)
Memphis Belle (1990)
Dead Calm (1989)
Going Overboard (1989)
Back to the Future Part II (1989)
Critters (1986)
Back to the Future (1985)

<< back