View Full Site
Boyd Holbrook Bio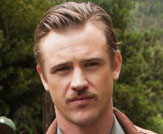 BOYD HOLBROOK
Date of Birth: September 1, 1981
Born in Prestonburg, Kentucky, Boyd Holbrook has all the qualities of a traditional film star: good looks, height, a brooding demeanor and a disarming smile.
He grew up with an appreciation for the arts, constantly writing and drawing in his spare time. Upon graduating high school, he worked for United Parcel Service (UPS) and then a department store, where his life changed when he encountered actor Michael Shannon, a fellow Kentuckian. After chatting with Michael about film and expressing his interest in acting, he was encouraged to pursue theater. He began doing carpentry for a local playhouse and met a photographer who suggested he model.
Eventually, Boyd relocated to New York, where he wrote, took film classes at New York University (NYU) and Columbia, and sculpted (his work has been featured in two Manhattan gallery exhibitions).
After randomly mailing a script to writer-director Gus Vant Sant in the hope that Gus would direct it, he landed a small part as Denton Smith in Gus' Oscar-winning film Milk.
Following Milk, he transitioned to TV with a minor role in one episode of the Amber Tamblyn-Jeremy Renner show The Unusuals in 2009, as well as a part in the pilot of the Mischa Barton show The Beautiful Life: TBL, which was co-created by Ashton Kutcher.
He made it back to film in 2011, landing a small role in Higher Ground and an uncredited role in The Oranges, before returning to TV and starring in six episodes of The Big C as Mykail with Laura Linney. In the same year, he also acted in the action drama film The Reunion with John Cena.
In 2012, Boyd shared the screen with Morgan Freeman and Virginia Madsen in director Rob Reiner's comedy The Magic of Belle Isle, and also took a part in the Golden Globe-winning mini-series Hatfields & McCoys with Kevin Costner and Bill Paxton. He appeared in three episodes as William "Cap" Hatfield. However, it was his role as Kyle in the major motion picture The Host, based on Twilight author Stephenie Meyer's sci-fi novel of the same name, that earned him the most acclaim to date, including an award for Breakthrough Performer at the 2012 Hamptons International Film Festival.
The next year was his busiest to date, with a role in the indie film Very Good Girls alongside Dakota Fanning and then-fiancée Elizabeth Olsen (the engagement ended in January 2015). He also played a minor role in the 2013 the Golden Globe and Emmy-winning HBO TV movie Behind the Candelabra, about Liberace (played by Michael Douglas) and his younger lover (played by Matt Damon) and supporting roles in the films Out of the Furnace and The Skeleton Twins.
The following year found him taking a lead role and earning rave reviews in the indie drama Little Accidents (2014). The film, which is credited as Boyd's breakout project, profiles a small West Virginia town living in the shadow of a devastating coal mine accident, and is contrasted by the disappearance of a teenage boy. It co-stars Elizabeth Banks.
Next, he appeared in A Walk Among the Tombstones with Liam Neeson and the Oscar-nominated Gone Girl with Rosamund Pike.
He reteamed with Liam Neeson in the action film Run All Night, which is also when he started work on a Netflix series that would introduce him to a whole new audience.
Boyd began starring as Steve Murphy in Narcos, a Golden Globe-nominated crime drama about drug kingpin Pablo Escobar. He has acted in every episode of the series.
In 2016, he headed to the desert in the Western Jane Got a Gun, playing the role of Vic Owen alongside Natalie Portman, Joel Edgerton and Ewan McGregor.
More recently, he starred in Boomtown, Cardboard Boxer, the mystery film Morgan with Kate Mara and Jennifer Jason Leigh, and the action drama Logan (2017) with Hugh Jackman.
Boyd, who also plays the banjo and guitar and has lived in Paris and Berlin in the past, has said that his childhood dream was to become an architect.
Filmography:
The Predator (2018)
Logan (2017)
Morgan (2016)
Cardboard Boxer (2016)
Boomtown (2016)
The Free World (2016)
Jane Got a Gun (2016)
Run All Night (2015)
Gone Girl (2014)
A Walk Among the Tombstones (2014)
Little Accidents (2014)
The Skeleton Twins (2014)
Out of the Furnace (2013)
The Host (2013)
Very Good Girls (2013)
The Magic of Belle Isle (2012)
The Reunion (2011)
The Oranges (2011)
Higher Ground (2011)
Milk (2008)
<< back