View Full Site
Bradley Cooper Bio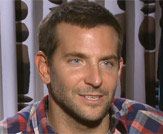 BRADLEY COOPER
Date of Birth: January 5, 1975
Born in Philadelphia, Bradley Cooper graduated with honors from the English program at Georgetown University before moving to New York City to obtain his Masters in the Fine Arts program at the Actors Studio Drama School at the New School University.
Bradley made his feature film debut in the indie comedy Wet Hot American Summer (2001).
In addition to his film work, Bradley is well known to television audiences for his work on several hit series. He played a recurring role on the critically acclaimed
Nip/Tuck
and was also the lead on the comedy series
Kitchen Confidential
, based on renowned chef and author Anthony Bourdain. Other notable credits include regular or recurring roles on
Alias
,
Jack & Bobby
and
The $treet
. He was also seen in guest spots on such shows as
Law & Order: SVU
,
Law & Order: Trial by Jury
and
Sex and the City
.
In 2006, Bradley made his Broadway debut in the play Three Days of Rain, starring with Julia Roberts and Paul Rudd. He also was part of the cast of the play The Understudy, which premiered to sold-out audiences at the Williamstown Theatre Festival.
Following a starring role in The Hangover (2009), Bradley played lead roles in several very different films, including All About Steve, as the object of Sandra Bullock's attention; the horror thriller Case 39 opposite Renée Zellweger and The A-Team opposite Liam Neeson, before returning to play Phil again in The Hangover Part II (2011).
After that, he worked non-stop with a wide range of different roles in a list of 2012 films—playing a gang leader in the comedy Hit & Run, a struggling writer in The Words and a cop-turned-politician in The Place Beyond the Pines. For his portrayal of a mental institute patient who returns home in Silver Linings Playbook, he received a 2013 Academy Award nomination. He also appeared in the third installment of the Hangover movies, The Hangover Part III (2013). He received a second Academy Award nomination for his performance in American Hustle (2013). He earned his third Academy Award nomination for his role as Chris Kyle in American Sniper (2015).
The talented actor can most recently be seen in the biopic Joy (2015) alongside Jennifer Lawrence, War Dogs (2016) starring Jonah Hill and Miles Teller, and the sci-fi adventure flick Guardians of the Galaxy Vol. 2 (2017) with Chris Pratt.
Bradley is divorced from actress Jennifer Esposito, to whom he was married for approximately 10 months in 2007. He dated his former co-star Renée Zellweger, but the relationship ended in March 2011. He then dated his The Words (2012) co-star Zoe Saldana from December 2011 to January 2013, followed by model Suki Waterhouse from March 2013 to March 2015. He is now in a relationship with Russian model Irina Shayk, whom he began dating in April 2015.
Filmography:
A Star Is Born (2018)
Avengers: Infinity War (2018)
Guardians of the Galaxy Vol. 2 (2017)
War Dogs (2016)
Joy (2015)
Adam Jones (2015)
American Sniper (2015)
Guardians of the Galaxy (2014)
Serena (2014)
American Hustle (2013)
The Hangover Part III (2013)
The Place Beyond the Pines (2012)
The Words (2012)
Silver Linings Playbook (2012)
Hit & Run (2012)
The Hangover Part II (2011)
Limitless (2011)
The A-Team (2010)
Valentine's Day (2010)
All About Steve (2009)
Case 39 (2009)
The Hangover (2009)
He's Just Not That Into You (2009)
New York, I Love You (2009)
Yes Man (2008)
The Midnight Meat Train (2008)
The Rocker (2008)
Older Than America (2008)
The Comebacks (2007) Failure to Launch (2006)
Wedding Crashers (2005)
Bending All the Rules (2002)
My Little Eye (2002)
Wet Hot American Summer (2001)
<< back