View Full Site
Brie Larson Bio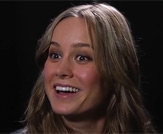 BRIE LARSON
Date of Birth: October 1, 1989
Sacramento native Brie Larson first came into the public eye by appearing on The Tonight Show with Jay Leno where she performed various skits.
Soon after, Brie began landing guest roles on in shows such as To Have & to Hold, Touched by an Angel and Popular, before landing a starring role on In Your Dreams (later renamed Raising Dad), for which she earned a Young Artist Award nomination. She then appeared in various teen-targeted films such as Disney's Right on Track (2003) and the movie Sleepover (2003), for which she earned a second Young Artist Award nomination, as well as playing a small part in the box office hit 13 Going on 30 (2004). For her lead role in the movie Hoot (2006), she received a third Young Artist Award nomination.
While developing her career as an actress, Brie was also working on her music career. Releasing her first album, Finally Out of P.E., in 2005 she travelled around the United States with several artists such as Jesse McCartney. She also got the opportunity to combine her passion for both acting and singing when she performed with the Canadian indie rock band Metric in the widely successful comedy film Scott Pilgrim vs. the World (2010).
Brie's most notable career development came through the popular drama series United States of Tara (2009), playing Toni Collette's sarcastic daughter. This role gained her a significant amount of attention and praise. She is now a rising feature film actress, appearing in the action comedy 21 Jump Street (2012) with Channing Tatum and Jonah Hill. She starred in Don Jon(2013) alongside Joseph Gordon-Levitt and Scarlett Johansson. She starred in The Gambler (2014) and more recently, she starred in Room (2015). For her work in the latter movie, she received numerous nominations, including nominations from the Academy Awards, BAFTA Awards and the SAG Awards. She also won a 2016 Golden Globe Award and an Academy Award for Best Performance by an Actress in a Motion Picture - Drama.
Brie's latest credits include the action adventure Kong: Skull Island (2017) with Tom Hiddleston and Samuel L. Jackson, the crime drama Free Fire (2017) with Cillian Murphy and Armie Hammer as well as drama The Glass Castle (2017) and Avengers: Infinity War (2018). Brie will reprise her coveted role of a Marvel superhero for 2019's Captain Marvel.
Filmography:
Captain Marvel (2019)
Avengers: Infinity War (2018)
Kong: Skull Island (2017)
Basmati Blues (2017)
The Glass Castle (2017)
Unicorn Store (2017)
Free Fire (2017)
Room (2015)
The Gambler (2014)
Don Jon (2013)
21 Jump Street (2012)
Rampart (2011)
The Trouble with Bliss (2011)
Scott Pilgrim vs. the World (2010)
Greenberg (2010)
Tanner Hall (2009)
Hoot (2006)
Sleepover (2004)
13 Going on 30 (2004)
Madison (2001)
<< back