View Full Site
Bryan Cranston Bio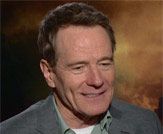 BRYAN CRANSTON
Date of Birth: March 7, 1956
Younger audiences may recognize Bryan Cranston from the family sitcom Malcolm in the Middle, where he played the role of the dysfunctional father, Hal. Others may know him from his role of Walter White on the AMC series Breaking Bad, a role that's earned him three consecutive Emmy Awards for Outstanding Lead Actor in a Drama Series.
Despite being the son of actor Joe Cranston, acting wasn't always the plan of action for Bryan, who studied police science at Los Angeles Valley College. After college, he began working with local small-time theaters and wound up finding his calling. His first major role came when he joined the cast of the ABC soap opera Loving. He stayed with the show for two years.
His next big TV gig was a recurring role as Jerry's dentist on the hugely popular show Seinfeld, from 1994 to 1997. Next he landed a role in Steven Spielberg's 1998 blockbuster Saving Private Ryan alongside Tom Hanks. In 1999, he signed on for the recurring role of the annoying neighbor in the CBS sitcom The King of Queens and then in 2000, Malcolm in the Middle was born.
Over the years, Bryan has starred in several big films, including recent titles such as The Lincoln Lawyer (2011), Drive (2011), Larry Crowne (2011) and Contagion (2011). He also starred in Red Tails, John Carter, Detachment, Rock of Ages, Total Recall and Argo and in Godzilla (2014).
More recently, he starred in Trumbo (2015), which earned him his first Academy Award nomination in the Best Actor category, lent his voice to Kung Fu Panda 3 (2016), worked alongside Miles Teller in Get a Job (2016), won a part in the comedy Why Him? (2016) with James Franco, and appeared with Elizabeth Banks in Power Rangers (2017).
Bryan has a daughter with his wife, actress Robin Deardon.
Filmography:
Isle of Dogs (2018)
Power Rangers (2017)
Why Him (2016)
In Dubious Battle (2016)
Wakefield (2016)
The Infiltrator (2016)
Get a Job (2016)
Kung Fu Panda 3 (2016)
Trumbo (2015)
Godzilla (2014)
Cold Comes the Night (2013)
Argo (2012)
Total Recall (2012)
Rock of Ages (2012)
Madagascar 3: Europe's Most Wanted (2012)
John Carter (2012)
Red Tails (2012)
Contagion (2011)
Larry Crowne (2011)
Drive (2011)
Leave (2011)
Detachment (2011)
The Lincoln Lawyer (2011)
Love Ranch (2010)
Hard Four (2007)
Little Miss Sunshine (2006)
Illusion (2004)
Seeing Other People (2004)
The Big Thing (2000)
Last Chance (1999)
Saving Private Ryan (1998)
Time Under Fire (1997)
Strategic Command (1997)
That Thing You Do! (1996)
Clean State (1994)
Dead Space (1991)
Corporate Affairs (1990)
The Big Turnaround (1988)
<< back