View Full Site
Cary Elwes Bio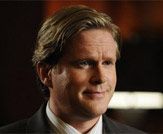 CARY ELWES
Birth name: Ivan Simon Cary Elwes
Date of Birth: October 26, 1962
Born in London, England, Elwes is the third son of the late portrait artist Dominic Elwes. He has two older brothers, Cassian, an L.A. film producer, and Damien, an artist. Elwes' parents divorced when he was nine years old. His mother later re-married American movie producer Elliot Kastner.
Elwes graduated from the famous Harrow school in England and moved to America to study acting at Sarah Lawrence College in Bronxville, New York.
Elwes started out as aristocratic "old school" brats in such films as Another Country (1984) and Oxford Blues (1984), then was swept along with Sting, Jennifer Beals and Quentin Crisp in the publicity maelstrom attending the silly horror spoof The Bride (1985). The actor was shown to better advantage as the feckless hero of The Princess Bride (1986), director Rob Reiner's deliciously anachronistic fairy tale. Since then, his career has taken off, playing roles in films such as Days of Thunder (1990), Dracula (1992), Liar Liar (1997) to mention a few, as well as doing voice work on animated features such as Quest for Camelot (1998), A Christmas Carol (2009) and TV's Hercules (1998).
Elwes is interested in history and says, "It's deliberate that a lot of my films have been period pieces." Among the films he's played in that fit that category are Robin Hood: Men in Tights (1993), The Cat's Meow (2001) and Ella Enchanted (2004).
For his role as Dr. Lawrence Gordon in the horror movie
Saw
, he received a 2005 MTV Movie Award nomination for "Best Frightened Performance." He returned for the third movie in the franchise—
Saw 3D
(2010). He again played a doctor in the romantic comedy
No Strings Attached
(2011) opposite Natalie Portman and Ashton Kutcher.
Cary is politically active for causes he believes in such as helping Native American Peoples. He currently resides in Malibu, California with his wife, Lisa Marie, and their daughter.
<< back