View Full Site
Charlize Theron Bio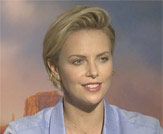 CHARLIZE THERON
(Photo Gallery)
Date of Birth: August 7, 1975
An only child of Afrikaaner parents, Charlize Theron was born and raised in Benoni, South Africa, where she grew up on a farm. The youngster devoted her free time to studying ballet and American movies: A particular favorite being the Tom Hanks-Daryl Hannah mermaid romance Splash, which caused the wide-eyed Charlize to develop a huge crush on Hanks.
Her study of ballet landed her at a performing arts school in Johannesburg. After winning a modeling contest at 16, an Italian fashion scout informed her there was a modeling contract awaiting her in Milan. She went. Unable to land any major modeling contracts or cover shots, the newness of her latest endeavor wore thin. When an American magazine flew her to New York for a photo shoot, Charlize decided to stick around and make a new life for herself in the States.
Arriving in the Big Apple at 18, Charlize did modeling jobs whenever she could get them and kept up with ballet. But when a career-ending knee injury forced her to give up dance, she was troubled. At her mother's suggestion, she went to Southern California in pursuit of becoming an actor.
Newly arrived, she threw an impressive tantrum when a bank teller refused to cash an out-of-state check. Hollywood talent manager John Crosby was behind her in line, and after helpfully explaining that she could cash her check at any post office, asked if she was an actress. Charlize replied that she wasn't, but that she fully intended to become one. Crosby offered his card. Charlize got in touch with him, and he agreed to take her on as a client.
After countless unsuccessful auditions, she finally landed a role in 2 Days in the Valley which was immediately followed by a chance to work with childhood crush Hanks on his directorial debut, 1996's That Thing You Do! He cast her in a small role as an all-American everygirl who finds love with the dentist of her dreams after her drummer boyfriend starts spending too much time with his bandmates.
The following year, Charlize logged prominent roles in decidedly different lawyer flicks, the Michael Richards farce Trial and Error and the Keanu Reeves-Al Pacino thriller The Devil's Advocate. Though absent from theaters during most of 1998, she turned heads with her bang-on portrayal of a shallow supermodel in Woody Allen's Celebrity that fall, and made her debut in a starring role opposite Bill Paxton in Disney's remake of Mighty Joe Young.
Her star has continued to rise since then, in the romantic comedy Sweet November again starring with Reeves, then as a mother whose child is kidnapped in Trapped and as a serial killer/prostitute in Monster, based on a true life story. For the latter, she gained 30 pounds and underwent a laborious daily makeup routine to play executed murderer Aileen Wuornos, and for her effort, Charlize received not only a Golden Globe award, but an Oscar in the Best Actress category at the 2004 Academy Awards. She again received Golden Globe and Academy Award nominations just two years later for her work in North Country (2005). Theron has since been keeping busy with her latest roles—a struggling author in Young Adult (2011), the Evil Queen in Snow White & the Huntsman (2012) and a space explorer in Prometheus (2012). She then starred in the comedy A Million Ways to Die in the West (2014) and in Mad Max: Fury Road (2015).
More recently, she starred in The Huntsman: Winter's War (2016) alongside Emily Blunt and Chris Hemsworth, lent her voice to the animated film Kubo and the Two Strings (2016), starred in The Fate of the Furious (2017) with Vin Diesel and Dwayne Johnson and played the title role in the spy thriller Atomic Blonde (2017) alongside James McAvoy.
Charlize, who received a star on the Hollywood Walk of Fame on September 29, 2005, was linked to actor Stuart Townsend from 2002 to 2010. She began dating Sean Penn in December 2013 and they were engaged for a short time, but split in June 2015.
In 2012, she adopted a baby boy from South Africa named Jackson. Three years later, she adopted an African-American baby girl named August.
Filmography:
Atomic Blonde (2017)
The Fate of the Furious (2017)
The Huntsman: Winter's War (2016)
Kubo and the Two Strings (2016)
Dark Places (2015)
Mad Max: Fury Road (2015)
A Million Ways to Die in the West (2014)
Snow White & the Huntsman (2012)
Prometheus (2012)
Young Adult (2011)
The Brazilian Job (2011)
Astro Boy (2009) (voice)
The Road (2009)
The Burning Plain (2008)
The Ice at the Bottom of the World (2008)
Hancock (2008)
Sleepwalking (2007)
Battle in Seattle (2007)
In the Valley of Elah (2007)
Aeon Flux (2005)
North Country (2005)
Head in the Clouds (2004)
Monster (2004)
The Italian Job (2003)
Waking Up in Reno (2002)
Trapped (2002)
Waking Up in Reno (2002)
Sweet Home Alabama (2001)
The Curse of the Jade Scorpion (2001)
15 Minutes (2001)
Sweet November (2001)
The Legend of Bagger Vance (2000)
Men of Honor (2000)
The Yards (2000)
Reindeer Games (2000)
The Cider House Rules (1999)
The Astronaut's Wife (1999)
Mighty Joe Young (1998)
Celebrity (1998)
The Devil's Advocate (1997)
Trial and Error (1997)
2 Days in the Valley (1996)
Children of the Corn IV: The Gathering (1996) (V) (uncredited)
That Thing You Do! (1996)
<< back