View Full Site
Charlotte Rampling Bio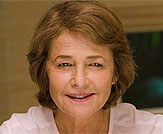 CHARLOTTE RAMPLING
Date of Birth: February 5, 1946
Charlotte Rampling was born in Sturmer, England. Both her parents were painters. At the time of his death at age 100 in 2009, Charlotte's father, Godfrey Rampling, was the oldest surviving British Olympic gold medalist in history. He was also a well-known army officer, which meant the family often had to move homes.
Charlotte attended a total of five schools, including the Jeanne d'Arc Académie pour Jeunes Filles in Versailles and the prestigious St. Hilda's School in England. She often attributes her aspiration to become an actress to her gypsy upbringing, telling the UK's Telegraph: "[My dad] being in the Army, we only lived two years everywhere. Army brat, movie brat, same sort of lifestyle."
Charlotte first worked in commercials and as a model before she made her film debut as an uncredited water skier in the sex comedy The Knack...and How to Get Itin 1965. A year later Charlotte had her big break as Meredith in the British film Georgy Girl. It was around this time that Charlotte's older sister Sarah committed suicide at the age of 23. This strongly affected Charlotte's subsequent movie choices. "I could have carried on in comedy. But my life was dark. I wasn't going to be jumping around doing futile entertainment, I had to do something with some kind of substance and value, so I could at least say to myself I was serving my dead sister in a way," she told the Telegraph. This was no more truer than in her next film role, in 1969's The Damned, as a young wife sent to a Nazi concentration camp.
Her biggest role up until that point was in another heavy Holocaust drama The Night Porter (1974), in which she played a concentration camp survivor who is reunited with the Nazi guard who tortured her.
Over the next decade Charlotte appeared in many high-profile films, including the remake of Farewell, My Lovely (1975), Woody Allen's Stardust Memories (1982) and the acclaimed drama The Verdict (1982), alongside Paul Newman.
Roles in French films have been a mainstay in Charlotte's storied career, the most notable being in On ne meurt que deux fois (1985), Sous le sable (Under the Sand) (2000) and Lemming (2005), all roles for which she received César Award Best Actress nominations.
Charlotte rose to mainstream prominence in 2013 for her appearance as Dr. Evelyn Vogel on the final season of the popular serial killer series Dexter.
Despite a lengthy career, Charlotte has only recently garnered recognition through major Hollywood awards for her role as Kate Mercer in the 2015 drama 45 Years. The actress has earned a slew of nominations for the movie, including a Critic's Choice Award nomination and an Academy Award nomination for Best Actress.
Since then, Charlotte has appeared in BBC Two's five-part mystery drama series London Spy, for which she earned a Golden Globe nomination, the crime drama series Broadchurch, the action fantasy film Assassin's Creed (2016) with Michael Fassbender, and the drama The Sense of an Ending (2017) with Jim Broadbent.
Charlotte has been married twice, first in 1976 to actor and publicist Bryan Southcombe, with whom she has one son. She married French composer Jean Michel Jarre in 1978, but the marriage was publicly dissolved in 1997 after tabloids uncovered Jarre's many affairs. She was then engaged to French communications tycoon Jean-Noel Tassez from 1998 until his death in 2015. Charlotte currently lives in Paris.
Filmography:
The Sense of an Ending (2017)
Assassin's Creed (2016)
45 Years (2015)
Young & Beautiful (2013)
Night Train to Lisbon (2013)
Cleanskin (2012)
I, Anna (2012)
The Eye of the Storm (2011)
Melancholia (2011)
The Look (2011)
The Mill and the Cross (2011)
Riot Sex Comedy (2010)
Never Let Me Go (2010)
StreetDance 3D (2010)
Life During Wartime (2009)
The Duchess (2008)
Babylon A.D. (2008)
Caotica Ana (2007)
Twice Upon a Time (2006)
Basic Instinct 2 (2006)
Heading South (2005)
Lemming (2005)
The Keys to the House (2004)
Immortal (2004)
Swimming Pool (2003)
Embrassez qui vous voudrez (Summer Things) (2003)
Spy Game (2001)
The Fourth Angel (2001)
Sous le sable (Under the Sand) (2000)
Signs and Wonders (2000)
The Wings of the Dove (1997)
Hammers Over the Anvil (1993)
Paris by Night (1988)
D.O.A. (1988)
Angel Heart (1987)
Max My Love (1986)
On ne meurt que deux fois (1985)
Viva le vie (1984)
The Verdict (1982)
Stardust Memories (1980)
Orca (1977)
The Purple Taxi (1977) The Far Side of Paradise (1976)
Jackpot (1975)
Farewell, My Lovely (1975)
The Flesh of the Orchid (1975)
Caravan to Vaccares (1974)
The Night Porter (1974)
Zardoz (1974)
Giordano Bruno (1973)
Henry VIII and His Six Wives (1972)
Three (1969)
The Damned (1969)
The Long Duel (1967)
Georgy Girl (1966)
Rotten to the Core (1965)
The Knack... and How to Get It (1965)
<< back