View Full Site
Cheech Marin Bio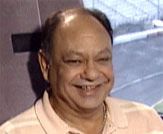 CHEECH MARIN
Date of Birth: July 13, 1946
Born to a police officer in Los Angeles, California, Marin was fond of music in his younger years. "As a little kid, I was a singer and recorded albums. I was always in bands—you name it, I sang it—R&B, jazz, funk, I did it all." He moved to Vancouver, Canada to avoid the draft in the States and studied art. There he met Canadian-born Tommy Chong, and the friendship would spawn a constantly-stoned hippie duo which took viewers by storm in the late 70s and early 80s.
While still in Vancouver, the two honed their comedic personas called Cheech and Chong, in improvisational theater. As their popularity grew, they released a series of comedy albums. In 1978 they came out with their first film, Up in Smoke. The comedy about two bungling hippies who drive a truck across the border, unaware it is filled with drugs, became an enormous hit and was the highest grossing film of the year.
Within the next six years, four more Cheech and Chong films were released. The duo also appeared, in character, in the films It Came From Hollywood (1982), Yellowbeard (1983), and After Hours (1985).
By the mid-80s, the two decided to drop the successful act. Chong went on to direct, and Marin continued to act in films like Ghostbusters II (1989), Troop Beverly Hills (1989) and The Shrimp on the Barbie (1990). He also wanted to be in more films that his kids could watch, so he voiced characters in films like Oliver and Company (1988), FernGully: The Last Rainforest (1992) and The Lion King (1994).
After small roles in tough action films like Desperado and From Dusk Til Dawn, Marin landed a regular role as Joe Dominguez on the long-lasting series Nash Bridges. Working with the Bridges cast for the next seven years, he also found time to continue adding to his feature film work with parts in Tin Cup (1996), Paulie (1998), Spy Kids (2001), Christmas with the Kranks (2004), Grindhouse (2007), The Perfect Game (2009) and Machete (2010).
In the last decade, he's appeared in (or lent his voice to) Cars 2 (2011), The Book of Life (2014) and Dark Harvest (2016). His latest credit is the animated film Cars 3, in which he reprises his role of Ramone.
Marin has been married and divorced twice. He has an adopted daughter from his first marriage, and two children from his second marriage. He lives in Los Angeles.
Filmography:
The War with Grandpa (2017)
Cars 3 (2017)
Dark Harvest (2016)
El Americano: The Movie (2016)
The Book of Life (2014)
El Santos vs la Tetona Mendoza (2012)
Cars 2 (2011)
Hoodwinked Too! Hood vs. Evil (2011)
Pure Country 2: The Gift (2010)
Machete (2010)
The Perfect Game (2009)
Race to Witch Mountain (2009)
Beverly Hills Chihuahua (2008)
Uncle P (2007)
Planet Terror (2007)
Grindhouse (2007)
Cars (2006)
Underclassman (2005)
Christmas with the Kranks (2004)
Once Upon a Time in Mexico (2003)
Spy Kids 3-D: Game Over (2003)
Masked and Anonymous (2003)
Pinocchio (2002)
Sky Kids 2: Island of Lost Dreams (2002)
Spy Kids (2001)
Picking Up the Pieces (2000)
Luminarias (2000)
Paulie (1998)
Tin Cup (1996)
The Great White Hype (1996)
From Dusk Till Dawn (1996)
Charlie's Ghost Story (1995)
Desperado (1995)
The Magic of the Golden Bear: Goldy III (1994)
A Million to Juan (1994)
The Lion King (1994)
FernGully: The Last Rainforest (1992)
The Shrimp on the Barbie (1990)
Rude Awakening (1989)
Ghostbusters II (1989)
Oliver & Company (1988)
Fatal Beauty (1987)
Born in East L.A. (1987)
After Hours (1985)
Echo Park (1985)
Cheech & Chong's The Corsican Brothers (1984)
Cannonball Run II (1984)
Yellowbeard (1983)
Still Smokin (1983)
Things Are Tough All Over (1982)
Nice Dreams (1981)
Cheech and Chong's Next Movie (1980)
Up in Smoke (1978)

<< back