View Full Site
Chiwetel Ejiofor Bio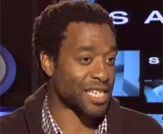 CHIWETEL EJIOFOR
Date of Birth: July 10, 1974
Born in the Forest Gate section of London to Nigerian parents, Chiwetel Ejiofor began acting in school plays at the age of 13. He earned a scholarship to the London Academy of Music and Dramatic Art, then made his feature film debut in Steven Spielberg's Amistad (1997).
Ejiofor was voted Outstanding Newcomer at the London Evening Standard Awards in 2000 for his performance in Blue/Orange, a play about a mental patient who claims to be the son of an exiled African dictator; he was also awarded the Jack Tinker Award for Most Promising Newcomer at the 2000 London Critics Circle Theatre Awards (Drama) and nominated for a 2001 Laurence Olivier Theatre Award for Best Supporting Actor.
But it was his performance in Stephen Frears' critically acclaimed Dirty Pretty Things (2003) that brought Ejiofor's talent to the attention of many. He received Best Actor awards from the Black Reel Awards, the American Black Film Festival, the British Independent Film Awards, the San Diego Film Critics Society and the Evening Standard British Film Awards. Roles in Richard Curtis' Love Actually (2003), Spike Lee's She Hate Me (2004), Woody Allen's Melinda and Melinda (2005), John Singleton's Four Brothers (2005) and Joss Whedon's Serenity (2005) followed.
Ejiofor received a British Independent Film Award nomination for his role as a Soho transvestite who helps resuscitate an ailing North Hampton shoe factory in Kinky Boots (2006). The same year, he was nominated for the 2006 BAFTA Orange Rising Star award, which recognizes exceptional talent and outstanding performances in young actors.
It was his performance as Solomon Northrup in 12 Years a Slave (2013), however, that earned him the most accolades to date. He received nominations from both the Golden Globes and Academy Awards, as well as wins at numerous film festivals. More recently, he starred in The Martian (2015), in Secret in Their Eyes (2015) alongside Julia Roberts, the crime thriller Triple 9 (2016), and the action adventure Marvel's Doctor Strange (2016) starring Benedict Cumberbatch.
Filmography:
Marvel's Doctor Strange (2016)
Triple 9 (2016)
The Martian (2015)
Secret in Their Eyes (2015)
Z for Zachariah (2015)
12 Years a Slave (2013)
Half of a Yellow Sun (2013)
The Suffering (2011)
Salt (2010)
Tonight at Noon (2009)
2012 (2009)
Redbelt (2008)
American Gangster (2007)
Talk to Me (2007)
Children of Men (2006)
Tonight at Noon (2006)
Kinky Boots (2006)
Inside Man (2006)
Slow Burn (2005)
Serenity (2005)
Four Brothers (2005)
Melinda and Melinda (2005)
Red Dust (2004)
She Hate Me (2004)
Love Actually (2003)
3 Blind Mice (2003)
Dirty Pretty Things (2003)
My Friend Soweto (2001)
It Was an Accident (2000)
G:MT Greenwich Mean Time (1999)
Amistad (1997)
<< back