View Full Site
Chloë Grace Moretz Bio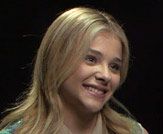 CHLOË GRACE MORETZ
Date of Birth: February 10, 1997
With a nurse and a plastic surgeon as parents, it wasn't a given that Chloë Grace Moretz would somehow become a child actor by the age of seven. It was through her older brother Trevor, who was accepted into Professional Performing Arts High School in New York in 2001 when he was 15, that got the ball rolling for the little girl. Along with her mother Teri, and Trevor, Chloë, then four, moved to New York from Atlanta, Georgia, where she was born.
Trevor studied at the school for two years, then the entire family, including their father McCoy Lee Moretz and Chloë's three other brothers, Brandon, Colin and Ethan, moved to Los Angeles. Trevor began coaching his little sister and in 2004 she made her TV debut when she was asked to play a recurring character in two episodes of CBS crime series The Guardian. Shortly after, she made her movie debut in the small budget film Heart of the Beholder (2005), which won several awards at film festivals.
Later that year, she gained recognition when she appeared in the major motion picture The Amityville Horror (2005), playing the daughter of Ryan Reynolds and received her first Young Artist Award nomination for her work in the film. She received two more in 2007, for a recurring role in the TV series Desperate Housewives and her role in Big Momma's House 2 (2006).
In 2008 Chloë had a minor setback when she voiced the entire character of Penny in the animated Disney feature Bolt before it was decided Miley Cyrus, then Disney's biggest star, would play the part. It didn't affect her career however, as the same year she again received two nominations, this time for her voice over role in the DVD My Friends Tigger & Pooh and her recurring role in the TV series Dirty Sexy Money. In 2010 she was nominated for her work in the motion picture 500 Days of Summer (2009), then in 2011 she received three nominations: for Let Me In, Kick Ass and Diary of a Wimpy Kid, finally winning the award for the latter. However, she won a Phoenix Film Critics Society Award as Breakout Performance and two MTV Awards (Best Breakout Star and Biggest Badass Star) for her work in Kick-Ass. For her outstanding performance as a vampire child in Let Me In and well as for her work in Kick-Ass, she won a 2011 Empire Award in the UK and a Breakthrough Artist Award from the the Austin Film Critics Association. She also won a Saturn Award for Let Me In.
Having literally grown up in the public eye, Chloë continues to work steadily, with three movies released in 2011, including the highly anticipated Hugo, directed by Martin Scorsese, and four movies that released in 2012, one of which is Tim Burton's Dark Shadows, in which she stars alongside Johnny Depp. Her other films include If I Stay (2014), Laggies (2014), The Equalizer (2014) and Clouds of Sils Maria (2015). More recently, she starred in The 5th Wave, Neighbors 2: Sorority Rising (2016) and Brain on Fire (2017), which screened at the 2016 Toronto International Film Festival.
In late 2016, Chloë said she plans to take a break from acting, but it must have been a short break as she has several films lined up to release in 2017.
In her spare time, Chloë enjoys ballet, basketball, swimming and playing with her dogs and cat. She is also a StarPower Ambassador for the Starlight Children's Foundation.
Filmography:
Suspiria (2017)
November Criminals (2017)
Brain on Fire (2017)
The 5th Wave (2016)
Neighbors 2: Sorority Rising (2016) Clouds of Sils Maria (2015)
The Equalizer (2014)
If I Stay (2014)
Laggies (2014)
Carrie (2013)
Kick-Ass 2 (2013)
Dark Shadows(2012)
Hugo (2011)
Hick (2011)
Texas Killing Fields (2011)
Let Me In (2010)
Diary of a Wimpy Kid (2010)
Kick-Ass (2010)
Jack and the Beanstalk (2010)
(500) Days of Summer (2009)
Not Forgotten (2009)
Bolt (2008)
The Poker House (2008)
The Eye (2008)
The Third Nail (2008)
Wicked Little Things (2006)
Room 6 (2006)
Big Momma's House 2 (2006)
The Amityville Horror (2005)
Heart of the Beholder (2005)
<< back