View Full Site
Chow Yun-Fat Bio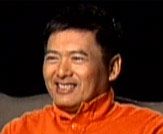 CHOW YUN-FAT
Date of Birth: May 18, 1955
"Actually, I'm a Buddhist. And in real life, I hate violence. I don't like it at all. But I'm forced to do it because it's my job." ­ Chow Yun Fat
Unlike Chow Yun-Fat's debut films in America where he plays the stoic, brooding gunfighter, Chow has a modest, humble, kind and thoughtful personality. Although relatively new to the western world, Chow's popularity in Hong King is surpassed only by Jackie Chan.
Born on Lamma Island to migrant workers, Chow opened his eyes to acting when his family moved from a small farming community to the bustle of Kowloon City, Hong Kong. He was influenced by the many Asian, American and French films he saw in the local theatres.
Chow began his acting career at the age of 18, working for a television studio in Hong Kong. By the age of 21, Chow was already a major presence on Chinese TV and had started to segue into a movie career. He ended up staying at the studio for 14 years, completing numerous films and over 1,000 episodes in various series; acting in soap operas, dramas and comedies.
While filming in Hong Kong, Chow was recognized many times for his performances. In '87, '88 and '90 he won the Hong Kong Academy for "Best Actor", the Taiwan Golden Horse for "Best Actor" in '85, '87, as well as winning the Best Actor award at the Asian Pacific Festival in 1985. But no matter how many awards Chow won, he would remain unknown to Western audiences.
That all changed when he met John Woo. "John needed an actor who the audience could recognize as full of love, very effusive about his family, his brotherhood." Together they made the blockbuster, A Better Tomorrow III (1989), which launched both director and actor onto an international scale, followed by The Killer (1989) and Hard-Boiled (1992) which have also become legendary. After the reunification of Hong Kong with mainland China, many filmmakers and actors moved to the U.S. Chow did the same, and in 1998, he resurfaced in the American film The Replacement Killers and The Corruptor in 1999.
"I want to play different roles, not just the tough guy. I want to do comedies, melodramas, like Tom Hanks," he says.
For his role in Crouching Tiger, Hidden Dragon (2000), Yun-Fat won much acclaim, and though he continues to work in Chinese films, he also makes appearances in American blockbusters such as Pirates of the Caribbean: At Worlds End (2007).
Yun-Fat has been married to second wife, Jasmine, since 1986.
Filmography:
The Battle of Red Cliff (2008)
The Children of Huang Shi (2008)
Pirates of the Caribbean: At Worlds End (2007)
Man cheng jin dai huang jin jia (2006)
Curse of the Golden Flower (2006)
The Postmodern Life of My Aunt (2006)
Waiting Alone (2004)
Bulletproof Monk (2003)
Crouching Tiger, Hidden Dragon (2000)
The Corruptor (1999)
Anna and the King (1999)
The Replacement Killers (1998)
Peace Hotel, The (1995)
God of Gamblers' Return (1994)
Treasure Hunt (1994)
Who Do You Think You're Fooling? (1994)
All for the Winner (1992)
Ruthless Super-Cop (1992)
Now You See Love, Now You Don't (1992)
Full Contact (1992)
God of Gamblers II (1991)
Prison on Fire II (1991)
Black Vengeance (1990)
No Way Back (1990)
Once a Thief (1990)
Wild Search (1989)
The Killer (1989) (USA)
God of Gamblers (1989)
The Fun, the Luck, and the Tycoon (1989)
Triads: The Inside Story (1989)
Triad Savages (1989)
A Better Tomorrow III: Love and Death in Saigon (1989) (USA: US version)
All About Ah-Long (1989)
The Eighth Happiness (1988)
Fractured Follies (1988)
Diary of a Big Man (1988)
The Greatest Lover (1988)
Tiger on the Beat (1988) (UK)
City War (1988)
The Legend of Yu Ta Fu (1988)
Goodbye, My Friend (1988)
The Romancing Star (1987)
Prison on Fire (1987)
Rich and Famous (1987)
Flaming Brothers (1987)
An Autumn's Tale (1987)
City on Fire (1987)
Scared Stiff (1987)
Heroic Hero (1987) (literal English title)
The Color of a Hero II (1987)
Blacklist (1986)
The Missed Date (1986)
Love Unto Waste (1986)
The Story of Maniacs (1986)
Dream Lovers (1986)
You Will I Will (1986)
100 Ways To Murder Your Wife (1986)
A Heavy Response (1986)
True Colors of a Hero (1986) (Hong Kong: English title)
The Seventh Curse (1986)
Spiritual Love (1985)
Why Me? (1985)
The Story of Rose (1985)
Women (1985)
Witch from Nepal (1985)
Waiting for Daybreak (1984) (literal English title)
The Tenant (1984)
Love in a Fallen City (1984)
Flower City (1983) (literal English title)
Hunting Head (1983)
Shanghai Beach (1983)
Shanghai Beach 2 (1983)
Hardworking Money (1983)
Woo Yuet's Story (1981) (literal English title)
The Postman Strikes Back (1981)
Kiss, Kiss, Bang Bang (1981)
See-Bar (1980) (USA)
Police Sir (1980)
Miss O (1978)
Killers Two (1978) (Hong Kong: English title)
Massage Girls (1976)
<< back