View Full Site
Chris "Ludacris" Bridges Bio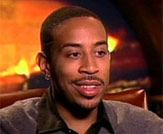 CHRIS "LUDACRIS" BRIDGES
Date of Birth: September 11, 1977
Born in Champaign, Illinois, Chris Bridges attended high school in Atlanta, followed by Georgia State University.
He worked his way up from an intern to being a DJ for Hot 107.9 in Atlanta before becoming a Grammy Award-winning multi-platinum recording artist dubbed Ludacris. His music has been featured in several movie and television soundtracks, including Hitch, You Got Served, Hollywood Homicide, Rush Hour 2, The Fast and the Furious and One Tree Hill.
Bridges made his acting debut in The Wash (2001), moving up quickly to roles in major motion pictures such as 2 Fast 2 Furious (2003) and the Best Picture Oscar winner Crash (2005), for which he earned the acclaim of both critics and audiences, as well as sharing Screen Actors Guild and Critics' Choice Awards as part of the ensemble cast.
The following year, he co-starred in Hustle & Flow (2005) and shared a SAG Award nomination with the cast, including Terrence Howard. Other motion pictures include Fred Claus (2007) starring Vince Vaughn, and Guy Ritchie's RocknRolla (2008) with Gerard Butler, in which he plays an American trying to break into the London music scene. More recently, he appeared alongside Vin Diesel in Furious 7 (2015) and The Fate of the Furious (2017).
On television, Bridges guest starred in a special two-part episode of NBC's hit drama series Law & Order: SVU and has been a musical guest on Saturday Night Live.
As an entrepreneur and philanthropist, Bridges is CEO of Disturbing Tha Peace Records, has his own show on XM Satellite Radio and is founder of The Ludacris Foundation, a non-profit organization committed to connecting with young people and helping them build economic development in local areas.
He has a daughter named Karma.
Filmography:
The Fate of the Furious (2017)
Furious 7 (2015)
Fast & Furious 6 (2013)
New Year's Eve (2011)
Fast Five (2011)
No Strings Attached (2011)
Gamer (2009)
Max Payne (2008)
RocknRolla (2008)
Ball Don't Lie (2007)
Fred Claus (2007)
Lil' Pimp (2005) (voice)
Hustle & Flow (2005)
Crash (2005)
2 Fast 2 Furious (2003)
The Wash (2001)
<< back