View Full Site
Chris Hemsworth Bio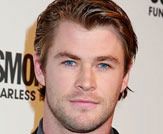 CHRIS HEMSWORTH
Date of Birth: August 11, 1983
Actor Chris Hemsworth was born in the city of Melbourne, Australia. His family later moved to Phillip Island, south of his hometown. After attending Heathmont Secondary College, Hemsworth took an interest in acting and starting his career on Australian television shows including Guinevere Jones.
His older brother Luke and younger brother Liam Hemsworth (ex-boyfriend of Miley Cyrus) are also actors, and have also had recurring roles as on the Australian show Neighbours.
Hemsworth's claim to fame was on the popular Australian soap Home and Away as the character Kim Hyde. It was while on the show that he started dating fellow Aussie actress Isabel Lucas, with whom he was with for one year. After leaving the show in 2007, Hemsworth moved to L.A. and started landing movie roles.
After Hemsworth portrayed James T. Kirk's father, George Kirk, in the opening scenes of Star Trek—a small but pivotal role. He went on to star in the thriller A Perfect Getaway, The Cabin in the Woods and Red Dawn.
Hemsworths' big break came in the form of a hammer-wielding Marvel superhero named Thor. Landing the role of Thor was the chance Hemsworth needed to put him right in the Hollywood spotlight. Ironically, he won the role over his brother, Liam, who was also vying for the part. His character continued in The Avengers, alongside other Marvel superheroes played by Robert Downey Jr. (Iron Man), Chris Evans (Captain America) and Scarlett Johansson (Black Widow). Hemsworth also played the part of the Huntsman in Snow White & the Huntsman (2012) alongside Kristen Stewart and Charlize Theron and the part of a teen taking on North Korean soldiers in Red Daw (2012). He starred in Rush(2013) alongside Daniel Brühl. In 2015, he was seen in Avengers: Age of Ultron (2015), Blackhat (2015) and In the Heart of the Sea (2015). In 2016, he reprised his role as the Huntsman in The Huntsman: Winter's War. He will also star in the comedy reboot Ghostbusters (2016) alongside Melissa McCarthy and Kristen Wiig.
Chris is married to Spanish actress Elsa Pataky and the couple welcomed their first child, a baby girl named India Rose Hemsworth, on May 11, 2012 .
Filmography:
Avengers: Infinity War - Part I (2018)
Thor: Ragnarok (2017)
Ghostbusters (2016)
The Huntsman: Winter's War (2016)
In the Heart of the Sea (2015)
Avengers: Age of Ultron (2015)
Blackhat (2015)
Robopocalypse (2014)
Thor: The Dark World (2013)
Rush (2013)
Red Dawn (2012)
Snow White & the Huntsman (2012)
The Avengers (2012)
The Cabin in the Woods (2011)
Thor (2011)
Ca$h (2010)
A Perfect Getaway (2009)
Star Trek (2009)

<< back