View Full Site
Chris Messina Bio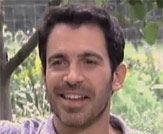 CHRIS MESSINA
Date of Birth: August 11, 1974
A native New Yorker, Chris Messina came to national attention in 2005 during the final season of HBO's acclaimed series Six Feet Under, in which he was cast opposite Lauren Ambrose.
Messina has worked extensively on the New York stage. He appeared on Broadway with Al Pacino and Marisa Tomei in Oscar Wilde's Salome, and starred opposite Frances McDormand under the direction of Stephen Daldry in New York Theatre Workshop's production of Caryl Churchill's Far Away.
One of his earliest film appearances was in a bit part in director-screenwriter Nora Ephron's 1998 romantic comedy You've Got Mail. He went on to win the Richard Burton award for Best Actor at the 2006 Vallarta Film Festival for his starring role in Ira and Abby. Since then, he's appeared in films such as Towelhead with Aaron Eckhardt, Made of Honor starring Patrick Dempsey and Woody Allen's award-winning Vicky Cristina Barcelona. In 2009 he reunited with Ephron for Julie & Julia, starring Meryl Streep.
Messina, who was named one of the "Ten Actors to Watch" by Variety in 2007, and has starred in movies such as Greenberg (2010) with Ben Stiller, Devil (2010) based on a short story by M. Night Shyamalan, and Ruby Sparks (2012) written by actress Zoe Kazan. Messina also landed a role in Ben Affleck's Argo (2012), which had its world premiere at the 2012 Toronto International Film Festival.
Messina is a regular character alongside Mindy Kaling in the comedy series The Mindy Project. Some of his most recent film projects include the musical comedy Ordinary World (2016) and the dramedy The Sweet Life (2016). In 2017, Messina re-teamed with Ben Affleck to star in the crime drama Live by Night.
He has a son, Milo and a daughter, Giovanni with his girlfriend—producer Jennifer Todd.
<< back