View Full Site
Cillian Murphy Bio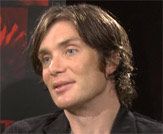 CILLIAN MURPHY
Date of Birth: May 25, 1976
Born in Ireland, Cillian Murphy began his career in the theater. He first made his mark in the award-winning stage version of Disco Pigs, a role that he would later recreate for the film version. His debut on film was in a short called Quando in 1997, and the following year he played Pat the Barman in Sweety Barrett (1998). Roles in more films followed, including On The Edge (2001), in which he starred as a suicidal teenager opposite Jonathan Jackson and Stephen Rea. He then made his television debut in the BBC mini-series The Way We Live Now (2001). For his role in Disco Pigs (2001), he was nominated for Best Actor in a Feature Film by the Irish Film & Television Academy.
In 28 Days Later (2003), Cillian played the lead role of Jim, a man who wakes up from a coma in a London hospital to learn that a dangerous virus is sweeping across the world. The film was released worldwide and brought Murphy international attention. He then landed a leading role in The Girl with a Pearl Earring (2003) opposite Scarlett Johansson and Colin Firth as well as a part in Christopher Nolan's Batman Begins (2005), joining an all-star cast. The collaboration went so well that Nolan chose to work with him again in both of his Batman sequels, The Dark Knight (2008) and the The Dark Knight Rises (2012). Nolan also brought him on for his 2010 blockbuster Inception, co-starring Leonardo DiCaprio. He starred in the 2014 thriller Transcendence alongside Johnny Depp. More recently, he starred in Aloft (2015), Anthropoid (2016) and Free Fire (2017).
Cillian works onstage when he has the time, appearing in The Shape of Things at Dublin's Gate Theatre in 2002 and Chekov's The Seagull at the International Theatre Festival in Edinburgh in August 2003.
Filmography:
Dunkirk (2017)
Free Fire (2017)
Anthropoid (2016)
Aloft (2015)
In the Heart of the Sea (2015)
Transcendence (2014)
Broken (2013)
The Dark Knight Rises (2012)
Red Lights (2012)
In Time (2011)
Retreat (2011)
TRON: Legacy (2010)
Hippie Hippie Shake (2010)
Inception (2010)
Peacock (2010)
Perrier's Bounty (2009)
The Water (2009)
The Dark Knight (2008)
The Edge of Love (2008)
Watching the Detectives (2007)
Sunshine (2007)
The Wind That Shakes the Barley (2006)
Breakfast on Pluto (2005)
Red-Eye (2005)
Batman Begins (2005)
Intermission (2004)
Girl with a Pearl Earring (2003)
Cold Mountain (2003)
Zonad (2003)
28 Days Later (2002)
Disco Pigs (2001)
How Harry Became a Tree (2001)
On the Edge (2001)
The Trench (1999)
Sunburn (1999)
Sweety Barrett (1998)
<< back