View Full Site
Cliff "Method Man" Smith Bio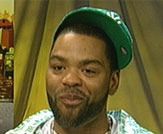 METHOD MAN
Birth Name: Clifford Smith
Date of Birth: April 1, 1971
This New York native lived in Hempstead before moving to Staten Island in the late '80s. Clifford spent his youth shuttling between a delinquent father in Long Island and a mother on Staten Island, New York, where he met the men who would eventually become the Wu-Tang Clan. Method lived with his mother and two sisters in the Park Hill projects.
After surviving a difficult childhood, he rapped and hung out with Robert Diggs, Gary Grice and Russell Jones. Years later, Method and his friends joined four others, pooled their resources together and recorded a single, 'Protect Ya Neck/After the Laughter,' on Wu-Tang Records in 1992. The single sold over 15,000 copies, enough to give Method a chance at a career in music. And he didn't disappoint. Within the next ten years, he released two successful albums, 'Tical' and 'Black Out.'
Method Man has composed music for a number of hit films including Batman Forever, In Too Deep, Gone in Sixty Seconds, The Fast and the Furious and Rush Hour 2. Not content to stick to composing, Method has also acted in a number of films including The Great White Hype (1996), Cop Land (1997), Black & White (1999), the documentary Backstage (2000), and his first starring role in How High (2002). Most recently, he starred in The Cobbler (2015).
Never married, he has two children, a son and a daughter.
Filmography:
The Cobbler (2015)
Sinners and Saints (2012)
The Sitter (2011)
The Wackness (2008)
Meet the Spartans (2008)
Venom (2005)
Garden State (2004)
Soul Plane (2004)
Brown Sugar (2002)
How High (2001)
Backstage (2000)
Boricua's Bond (2000)
P.I.G.S. (1999)
Black and White (1999)
Belly (1998)
Cop Land (1997)
One Eight Seven (1997)
Rhyme & Reason (1997)
The Great White Hype (1996)
The Show (1995)

<< back