View Full Site
Colin Firth Bio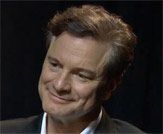 COLIN FIRTH
Date of Birth: September 10, 1960
The son of two university lecturers, Colin Firth was born in England's Hampshire county. His first acting experience came in school when he played Jack Frost in a Christmas pantomime. Three of his four grandparents were Methodist missionaries and he spent his early childhood in Nigeria, returning to England at age five where he entered a comprehensive school in Winchester.
Firth eventually enrolled in a drama centre in London. While playing Hamlet in a school production during his final term, the actor was "discovered," and he went on to make his London stage debut in the West End production of Another Country. From this performance, he was chosen to play the character of Judd in the movie of the play.
Despite such an auspicious beginning to his career, Firth spent the rest of the decade and half of the next working in relative obscurity. He starred in a number of television productions—including the highly acclaimed 1993 Hostages—and worked steadily in film.
Some of his more notable work included A Month in the Country, in which he played a World War I veteran opposite Kenneth Branagh and Natasha Richardson, and Valmont, Milos Forman's 1989 adaptation of Dangerous Liaisons, in which Firth starred in the title role. For his portrayal of Robert Lawrence in the 1989 TV production Tumbledown, he received the Royal Television Society Best Actor award and also a BAFTA nomination.
Then a mini-series came along that changed his life. In 1995, he landed a role for the television adaptation of Pride and Prejudice. Firth played Mr. Darcy, one of literature's most obstinate lovers with surly, understated charisma. The short series didn't seem long enough as it induced record increases in estrogen levels on both sides of the Atlantic. Firth caused many a viewer to wonder where he had been for so long and suddenly he was propelled into the media spotlight. For his role, he also received the Royal Television Society Best Actor award and a BAFTA nomination.
That same year, he appeared as an amorous cad in the similarly popular Circle of Friends (1995), and went on the next year to appear as Kristin Scott Thomas' cuckolded husband in The English Patient (1996). After a comically sinister turn as Gwyneth Paltrow's intended husband in the 1998 Shakespeare in Love, Firth went on to star in two very different movies: My Life So Far, a tale of family dysfunction in the Scottish Highlands, and Fever Pitch.
Firth appeared as Mark Darcy in the film Bridget Jones's Diary (2001), then reprised his role in the sequel. In 2010 he received his first Academy Award nomination, for his work in A Single Man. He received even more critical acclaim for his portrayal of King George VI in The King's Speech, winning a Golden Globe, a BAFTA Award and an Academy Award. In 2011, he received a star on the Hollywood Walk of Fame. In recent years he's starred in a slew of films, including The Railway Man (2014), Before I Go to Sleep (2014), Kingsman: Secret Service (2014), Genius (2016), and Bridget Jones's Baby(2016).
Firth shares a son with co-star Meg Tilly from the film Valmont (1989), and dated co-star Jennifer Ehle while filming the 1995 mini-series Pride and Prejudice. In June of 1997, he married Livia Giuggioli and they have two sons—Luca and Matteo. When not working in on a film, he is involved with several refugee rights and social justice organizations like Oxfam and Survival.
Filmography:
Kingsman: The Golden Circle (2017)
Kursk (2017)
Bridget Jones's Baby (2016)
Deep Water (2016)
Genius (2016)
Kingsman: The Secret Service (2014)
Before I Go to Sleep (2014)
Magic in the Moonlight (2014)
Devil's Knot (2013)
The Railway Man (2013)
Gambit (2012)
Arthur Newman (2012)
Tinker Tailor Soldier Spy (2011)
Main Street (2010)
The King's Speech (2010)
A Christmas Carol (2009)
A Single Man (2009)
Dorian Gray (2009)
Easy Virtue (2008)
A Summer in Genoa (2008)
Mamma Mia! (2008)
The Accidental Husband (2008)
St. Trinian's (2007)
Then She Found Me (2007)
 When Did You Last See Your Father? (2007)
The Last Legion (2007)
Nanny McPhee (2005)
Where the Truth Lies (2005)
Bridget Jones: The Edge of Reason (2004)
Trauma (2004)
Love Actually (2003)
Girl with a Pearl Earring (2003)
What a Girl Wants (2003)
Hope Springs (2003)
The Importance of Being Earnest (2002)
Fourplay (2001)
Bridget Jones's Diary (2001)
Relative Values (2000)
The Secret Laughter of Women (1999)
My Life So Far (1999)
Shakespeare in Love (1998)
A Thousand Acres (1997)
Fever Pitch (1997)
The English Patient (1996)
Circle of Friends (1995)
Playmaker (1994)
The Advocate (1993)
Mad at the Moon (1992)
Femme Fatale (1991)
Wings of Fame (1990)
Valmont (1989)
Apartment Zero (1988)
A Month in the Country (1987)
Nineteen Nineteen (1985)
Another Country (1984)
<< back