View Full Site
Colm Meaney Bio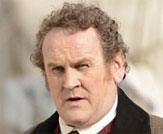 COLM MEANEY
Date of Birth: May 30, 1953
Irish actor Colm Meaney has been acting for close to 50 years. He first began studying acting at age 14, eventually earning a spot at the Abbey Theatre School of Acting in his home town of Dublin.
Colm started out his career with mostly one-episode guest roles in various TV shows — his first in 1978 as McGlin in the BBC show Z-Cars. He followed that up with guest spots on popular primetime shows such as Moonlighting and Remington Steele, as well as the soap opera One Life to Live.
In 1987, Colm got his first big break with a recurring role on the Star Trek reboot Star Trek: The Next Generation. He played Chief Miles O'Brien, Transporter Chief for the Starship Enterprise. He eventually left Next Generation for a bigger role in the spin-off Star Trek: Deep Space Nine. He remained on that show until its final episode in 1999. Other than Michael Dorn, who plays the Klingon Worf, Colm has appeared in more episodes of the Star Trek TV franchise than any other actor in its history.
During his time on Star Trek, Colm made smaller appearances in movies such as Die Hard 2 (1990), The Last of the Mohicans, Under Seige and Far and Away (all 1992). He failed to attract much media attention or acclaim for his film roles until 1993's The Snapper, a role for which he received his first Best Actor Golden Globe nomination.
Next he played Colum O'Hara in the critically acclaimed 1994 mini-series Scarlett. The early 2000s were a busy time for Colm, landing guest spots in many high-profile television shows: Stargate Atlantis in 2004, Murdoch Mysteries in 2007, Law & Order: Criminal Intent in 2005, Men in Trees in 2007, Law & Order in 2008 and The Simpsons in 2009.
Despite his extensive television resumé, Colm has also managed to appear in almost 60 movies. His most recent film roles include the action thriller Law Abiding Citizen (2009) opposite Gerard Butler and Jamie Foxx, The Damned United (2009), Get Him to Greek (2012) with Jonah Hill and Russell Brand, Soldiers of Fortune (2012) opposite Christian Slater, and Alan Partridge (2013) opposite Steve Coogan.
He can currently be seen as a series regular on the AMC Western series Hell on Wheels. He has also provided a voice for the 2016 animated feature Norm of the North, alongside Rob Schneider and Bill Nighy.
Colm has been married twice, first to Irish actress Bairbre Dowling in 1977, with whom he had his first daughter. He is currently married to costume designer Ines Glorian, with whom he had his second daughter in 2005.
Filmography:
Norm of the North (2016)
The Devil's Hand (2014)
Free Birds (2013)
A Belfast Story (2013)
One Chance (2010)
Alan Partridge (2013)
Bel Ami (2012)
Whole Lotta Sole (2012)
El Perfect Desconocido (2011)
The Conspirator (2010)
Parked (2010)
Alleged (2010)
Get Him to the Greek (2010)
Law Abiding Citizen (2009)
The Race (2009)
The Damned United (2009)
Three and Out (2008)
Clean Break (2008)
The Metrosexual (2007)
Kings (2007)
A Lobster Tale (2006)
Five Fingers (2006)
Turning Green (2005)
Nouvelle-France (2004)
Layer Cake (2004)
Blueberry (2004)
Intermission (2003)
The Boys From County Clare (2003)
How Harry Became a Tree (2001)
Backflash (2001)
Most Important (1999)
Four Days (1999)
Chapter Zero (1999)
The Magical Legend of the Leprechauns (1999)
Mystery, Alaska (1999)
Claire Dolan (1998)
22 October (1998)
Monument Ave. (1998)
This Is My Father (1998)
Owd Bob (1997)
Con Air (1997)
The Last of the High Kings (1996)
The Van (1996)
The Englishman Who Went Up a Hill But Came Down a Mountain (1995)
The Road to Wellville (1994)
War of the Buttons (1994)
The Snapper (1993)
Into the West (1992)
Far and Away (1992)
The Last of the Mohicans (1992)
Under Siege (1992)
The Commitments (1991)
Come See the Paradise (1990)
Dick Tracy (1990)
Die Hard 2 (1990)
The Dead (1987)
Omega Syndrome (1987)
Nailed (1981)
<< back