View Full Site
Common Bio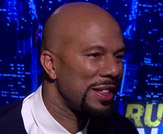 COMMON
Date of Birth: March 13, 1972
Born Lonnie Rashid Lynn, Common is a Chicago-born rapper whose album releases include "Can I Borrow a Dollar?" and "Resurrection," under the moniker Common Sense. In 1997 he simplified his name to Common following a lawsuit, and released several new albums, including "One Day It'll All Make Sense," "Like Water For Chocolate" and "Electric Circus."
In 2003, Common made his TV acting debut with a guest appearance on the UPN sitcom Girlfriends. He soon found his way onto the big screen, playing Sir Ivy in Smokin' Aces (2006) alongside Ben Affleck and Ryan Reynolds. Next up, he portrayed Turner Lucas in Ridley Scott's Golden Globe-nominated American Gangster (2007), starring Denzel Washington and Russell Crowe. Roles in Street Kings starring Keanu Reeves and Wanted starring Angelina Jolie were followed by a role in the blockbuster film Terminator Salvation (2009), starring Christian Bale. But the acting hasn't stopped there. Common has continued to land roles alongside big names, some of the more recent ones being Date Night (2010) with Steve Carell and Tina Fey, alongside the long list list of stars in the comedy New Year's Eve (2011) and with Jennifer Garner and Joel Edgerton in The Odd Life of Timothy Green (2012).
Most recently, he appeared in the thriller Now You See Me (2013) with Jesse Eisenberg and Mark Ruffalo, the drama Selma (2014) with David Oyelowo, the comedies Entourage (2015) and Barbershop: A Fresh Cut (2016), and the hit film Suicide Squad (2016) with Will Smith and Margot Robbie.
Common's latest projects include John Wick: Chapter 2 (2017) with Keanu Reeves, and the war drama Megan Leavey (2017) with Kate Mara and Tom Felton.
Aside from acting in Selma, Common created the film's original track "Glory" with John Legend. For their work, they won the Oscar for Best Original Song in 2015.
A vegetarian who swears off alcohol and marijuana, Common also continues to work on his music. He has a daughter from an unmarried relationship.
Filmography:
Megan Leavey (2017)
John Wick: Chapter 2 (2017)
Suicide Squad (2016)
Barbershop: A Fresh Cut (2016)
Coco (2016)
Being Charlie (2015)
Entourage (2015)
Selma (2014)
Every Secret Thing (2014)
X/Y (2014)
Now You See Me (2013)
The Odd Life of Timothy Green (2012)
LUV (2012)
New Year's Eve (2011)
Happy Feet Two (2011)
Just Wright (2010)
Date Night (2010)
Terminator Salvation (2009)
Wanted (2008)
Street Kings (2008)
American Gangster (2007)
Smokin' Aces (2006)
<< back