View Full Site
Courteney Cox Bio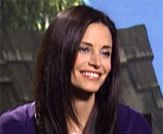 COURTENEY COX
Date of Birth: June 15, 1964
Courteney Cox was born the youngest of four children to an affluent suburban Birmingham, Alabama, family, and was raised to be a well-bred Southern belle. After bailing out after her first year of architecture studies at Mount Vernon College, in Washington, D.C., she headed for New York City to pursue her dream of becoming a model. A job as an office assistant to stepfather Hunter Copeland's nephew Ian Copeland followed, with whom she subsequently began dating. He encouraged her to pursue modeling, and also inspired her to try acting. She landed a contract with the prestigious Ford modeling agency, and began taking voice lessons to lose the Alabama drawl and acting lessons to conquer her stage fright.
Shoots for magazines like Teen Beat and Young Miss and for romance novel covers led to bookings for Noxzema, Maybelline, and Tampax commercials, which led in turn to a two-day, walk-on part as a debutante named Bunny on As the World Turns. Armed with this scant resume, Courteney turned out for a cattle-call audition for a part in a Bruce Springsteen music video. The video's director, Brian DePalma selected Cox from a swarm of over three hundred contenders for the $350 job; the video rocketed Springsteen to even loftier heights of fame, and when he snatched that fresh-faced girl out of a sea of anonymous faces, it was like the hand of God had designated her the Chosen One.
Yet success did not happen overnight. After forgettable stints on TV and in film, she finally made an impression on the long-running sitcom Family Ties, playing girlfriend Lauren of Alex P. Keaton. After the show closed up shop, Courteney appeared in a few films like Cocoon: The Return and Mr. Destiny but still wasn't garnering much attention. She blames the sluggishness of this period on her all-consuming relationship (1989-1994) with Michael Keaton.
In 1994, Courteney landed the role of Monica Geller on Friends. From the moment of its debut in the fall, Friends quickly became a TV phenomenon. She then went on to debunk her neurotic-next-door image on the show with her role as bitch-royale tabloid-style television reporter Gale Weathers in Wes Craven's horror flick Scream, and in its sequels, Scream 2, Scream 3 and Scream 4.
She married David Arquette, her Scream co-star, in June 1999. Their daughter, Coco, was born June 13, 2004 in Los Angeles. They have since separated and Courteney is now engaged to Johnny McDaid of Snow Patrol.
Filmography:
Scream 4 (2011)
Bedtime Stories (2008)
Barnyard: The Original Party Animals (2006)
Zoom (2006)
Alpha Dog (2005)
Alien Love Triangle (2005)
November (2005)
The Longest Yard (2005) (uncredited)
3000 miles to Graceland (2001)
Scream 3 (2000)
The Shrink Is In (2000)
The Runner (1999)
Scream 2 (1997)
Commandments (1997)
Scream (1996)
Ace Ventura: Pet Detective (1994)
The Opposite Sex and How to Live with Them (1992)
Blue Desert (1991)
Mr. Destiny (1990)
Shaking the Tree (1990)
Cocoon: The Return (1988)
Masters of the Universe (1987)
Down Twisted (1987)
<< back