View Full Site
Daisy Ridley Bio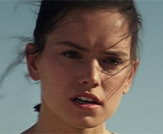 DAISY RIDLEY
Date of Birth: April 10, 1992
Born and raised in London, England, Daisy Jazz Isobel Ridley attended the Tring Park School for the Performing Arts. Shortly after graduating, she landed a guest appearance on the British medical drama series Casualty.
Guest roles on three more series quickly followed, including a two-episode stint on the TV series Silent Witness, before she was cast in a starring role in the new Star Wars movie - Star Wars: The Force Awakens in February 2014.
The news quickly hit the net and overnight, Daisy became a sensation. Since then, she's also completed a role in the indie horror Scrawl. She's also set to reprise her role as Rey in Star Wars: Episode VIII.
Daisy lists her talents as singing, dancing, and playing the violin. In her spare time, she enjoys playing tennis, roller blading, and ice skating.
Filmography:
Scrawl (2015)
Star Wars: The Force Awakens (2015)
<< back