View Full Site
Dakota Fanning Bio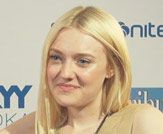 DAKOTA FANNING
Birth name: Hannah Dakota Fanning
Date of Birth: February 23, 1994
An actor at heart, Georgia-raised Fanning started her career on the stage. Her fellow actors saw potential in the five-year-old actress and suggested she get an agent. She did, and the agent sent her to L.A. for six weeks, which soon turned into months and then years.
Her face first hit the screen in a nationwide Tide commercial. She then landed guest roles in such primetime series as ER, Ally McBeal, The Practice, Malcolm in the Middle and Spin City. From television, Fanning took the leap into feature films starting with Tomcats (2001), followed by her award-winning performance as Lucy Diamond Dawson in I Am Sam (2001) opposite Sean Penn.
Fanning hasn't stopped working since. She completed two more films, Trapped and Sweet Home Alabama for 2002, followed by Steven Spielberg's acclaimed sci-fi mini-seres Taken and the features Uptown Girls (2003) and The Cat in the Hat (2003). In Man on Fire (2004), she stars opposite Denzel Washington as a little girl who needs a bodyguard, while in Hide and Seek (2004), she plays Robert De Niro's motherless daughter.
Her younger sister, Elle, has followed her into the business, first appearing as a younger version of Dakota's characters in I am Sam (2001) and Taken (2002), then branching out into films such as Daddy Day Care (2003) and Door in the Floor (2004).
Dakota has won numerous awards for her work, including a Young Artist award for her work as a horse-loving girl in Dreamer: Inspired by a True Story (2005). In fact, she loved being around horses for the movie so much that she now has a horse of her own, called Goldie.
In 2009, she joined the cast of the extremely popular Twilight movies, playing Jane, an evil Volturi vampire with cruel tendencies in The Twilight Saga: New Moon (2009), reprising the role in the third movie of the series, The Twilight Saga: Eclipse (2010). In between the two movies, she played teenage rocker Cherie Currie opposite her Twilight co-star, Kristen Stewart, who played Joan Jett in the biopic The Runaways (2010).
Dakota has since also filmed a role in the final Twilight film—The Twilight Saga: Breaking Dawn - Part 2 (2012), followed by Night Moves (2013), Effie Gray (2014), and The Benefactor (2015). She can most recently be seen in the Western thriller Brimstone (2016), the drama American Pastoral (2016), and the musical romance Viena and the Fantomes (2016).
When not acting, Dakota attends high school, where she is a cheerleader. The star was involved in a bit of controversy in 2011 when she posed in a print ad for a Marc Jacobs fragrance that was banned in the U.K. for being too sexually provocative.
Filmography:
Viena and the Fantomes (2016)
American Pastoral (2016)
Brimstone (2016)
The Benefactor (2015)
Yellowbird (2014)
Effie Gray (2014)
Every Secret Thing (2014)
Night Moves (2013)
Very Good Girls (2013)
The Twilight Saga: Breaking Dawn - Part 2 (2012)
Now Is Good (2012)
The Twilight Saga: Eclipse (2010)
The Runaways (2010)
The Twilight Saga: New Moon (2009)
Hurricane Mary (2009) (voice)
Push (2009)
Coraline (2009) (voice)
The Secret Life of Bees (2008)
Winged Creatures (2008)
Hounddog (2007)
Charlotte's Web (2006)
Dreamer: Inspired by a True Story (2005)
War of the Worlds (2005)
Nine Lives (2005)
Hide and Seek (2005)
Man on Fire (2004)
The Cat in the Hat (2003)
Uptown Girls (2003)
Hansel & Gretel (2003)
Sweet Home Alabama (2002)
Trapped (2002)
I Am Sam (2001)
Tomcats (2001)
<< back