View Full Site
Danny DeVito Bio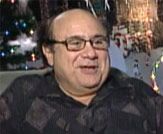 DANNY DEVITO
Date of Birth: November 17, 1944
Small in stature, long in talent, this Neptune, New Jersey native stands only 5'1" tall. And his first training was not in acting but, rather, in hairdressing at the Wilfred Academy of Hair and Beauty Culture. From there, at the age of 18, he began his working life as a hairdresser in his sister's beauty salon. It would be another five years and some acting classes at the American Academy of Dramatic Arts before De Vito would make his stage debut. The following year, 1970, he began to get small film roles until he repeated his stage role in the film version of the Ken Kesey novel, One Flew Over the Cuckoo's Nest. His performance earned him rave reviews and more film work. He also branched out into TV, winning both an Emmy Award and a Golden Globe for Best Supporting Actor for his role as Louie De Palma in the hit TV series, Taxi (1978-83).
He later branched out into directing (The War of the Roses, Matilda, Duplex) and producing (Erin Brockovich, Along Came Polly, Be Cool), but continues to act.
His latest on-screen credits include the dark comedy Wiener-Dog (2016) with Greta Gerwig and Julie Delpy, and The Comedian (2017) with Robert De Niro.
De Vito is married to the slightly taller—5'3"—but also very talented—Rhea Perlman. The couple have three children.
About his career choices, De Vito says, "I usually try to find the redemptive qualities in the guys I play so that I can have a good sleep at night."
Filmography:
The Comedian (2017)
Wiener-Dog (2016)
Dr. Seuss' The Lorax (2012)
Girl Walks Into a Bar (2012)
Solitary Man (2010)
When in Rome (2010)
House Broken (2009)
Just Add Water (2008)
Nobel Son (2008)
Reno 911!: Miami (2007)
Deck the Halls (2006)
The Good Night (2006)
Relative Strangers (2005)
Be Cool (2005)
Anything Else (2003)
Big Fish (2003)
Scene Stealers (2002) (V)
Austin Powers in Goldmember (2002)
Death to Smoochy (2001)
Heist (2001)
What's the Worst That Can Happen? (2001)
Screwed (2000)
Drowning Mona (2000)
Man on the Moon (1999)
Stretch Armstrong (1999)
The Virgin Suicides (1999)
Living Out Loud (1998) [Also producer] (working title)
The Rainmaker (1997)
Hercules (1997) [voice]
L.A. Confidential (1997)
Mars Attacks! (1996)
Matilda (1996) [Also Director / Producer]
Get Shorty (1995) [Also producer]
Felony (1995)
Junior (1994)
Renaissance Man (1994)
Look Who's Talking Now (1993) [voice]
Last Action Hero (1993) [voice - uncredited]
Jack the Bear (1993)
Hoffa (1992) [Also Director / Producer]
Batman Returns (1992)
Other People's Money (1991)
The War of the Roses (1989) [Also Director]
Twins (1988)
Tin Men (1987)
Throw Momma from the Train (1987) [Also Director]
Ruthless People (1986)
Head Office (1986)
My Little Pony (1986) [voice]
Wise Guys (1986)
The Jewel of the Nile (1985)
Romancing the Stone (1984)
Johnny Dangerously (1984)
Terms of Endearment (1983)
Going Ape! (1981)
Goin' South (1978)
The World's Greatest Lover (1977) [Also Assistant Director]
Car Wash (1976)
Deadly Hero (1976)
The Van (1976)
One Flew Over the Cuckoo's Nest (1975)
Hurry Up or I'll Be 30 (1973)
Scalawag (1973)
Mortadella (1972)
Bananas (1971) [Uncredited]
Dreams of Glass (1969)
<< back