View Full Site
Danny Glover Bio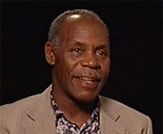 DANNY GLOVER
Date of Birth: July 22, 1946
The Danny Glover moviegoers know was born in San Francisco and co-starred in the Lethal Weapon series with Mel Gibson.
The Danny Glover he'd like us to know is an activist who has been serving the community all his life. The community, by the way, is the world we live in. While addressing college students in a political science class, he said, "I have a relationship with this world simply because of the color of my skin. And I've never been able to forget that."
Danny adds, "I can go anywhere I want in the world, but that's not important to me. What's important to me is to say, 'What kind of world are we going to bring about? What kind of world are we going to create?'"
Danny is best known for his role as detective Roger Murtaugh in Lethal Weapon but often seeks parts with a social conscience. He did a one-man show about Martin Luther King Jr. called Prophesy in America, which toured the United States and Africa in 1981. He also serves on the Board of Directors for Walden House, a drug rehabilitation program in Oakland, California.
Danny believes that problems with drugs and racism are the result of a lack of relationship among people in communities. He says, "We tolerate each other but we don't really listen to each other. We have to have some sort of common journey."
Raised in Florence, South Carolina, Danny earned a degree from San Francisco College before attending The Black Actors' Workshop. He made his film debut in 1979 in Escape from Alcatraz.
More recently, the veteran actor appeared in the comedy Dirty Grandpa (2016), Almost Christmas (2016) and Monster Trucks (2017).
He has won numerous awards, including Lifetime Achievement awards from both the Jamerican International Film Festival and the Los Angeles Pan African Film Festival. He married Asake Bomani in 1975, but they divorced in 2000. They have one child. He has since married Eliane Cavalleiro.
Filmography:
Proud Mary (2018)
Monster Trucks (2017)
Almost Christmas (2016)
Andron (2016)
Complete Unknown (2016)
Gridlocked (2016)
Yellowbird (2015)
Beyond the Lights (2014)
Supremacy (2014)
Casting By (2013)
Donovan's Echo (2012)
Heart of Blackness (2011)
Alpha and Omega (2010)
Legendary (2010)
Dear Alice (2010)
Death at a Funeral (2010)
2012 (2009)
Down for Life (2009)
Night Train (2009)
The Harimaya Bridge (2009)
This Life (2008)
Blindness (2008)
Gospel Hill (2008)
Be Kind Rewind (2008)
Honeydripper (2007)
Terra (2007)
Shooter (2007)
Poor Boy's Game (2007)
Namibia: The Struggle for Liberation (2007)
The Shaggy Dog (2006)
Dreamgirls (2006)
Barnyard (2006)
Bamako (2006)
Missing in America (2005)
Manderlay (2005)
The Cookout (2004)
Saw (2004)
The Royal Tenenbaums (2001)
3 A.M. (2001)
Boesman and Lena (2000)
Bàttu (2000)
The Monster (1999)
The Prince of Egypt (1998)
Beloved (1998)
Antz (1998)
How Stella Got Her Groove Back (1998)
Lethal Weapon 4 (1998)
Gone Fishin' (1997)
The Rainmaker (1997)
Switchback (1997)
Wild America (1997)
Operation Dumbo Drop (1995)
Angels in the Outfield (1994)
Maverick (1994)
Bopha! (1993)
The Saint of Fort Washington (1993)
Lethal Weapon 3 (1992)
Flight of the Intruder (1991)
A Rage in Harlem (1991)
Pure Luck (1991)
Grand Canyon (1991)
Predator 2 (1990)
To Sleep With Anger (1990)
Lethal Weapon 2 (1989)
Bat*21 (1988)
Lethal Weapon (1987)
Witness (1985)
The Color Purple (1985)
Silverado (1985)
Iceman (1984)
Places in the Heart (1984)
Out (1982)
Chu Chu and the Philly Flash (1981)
Escape From Alcatraz (1979)
<< back