View Full Site
Danny Huston Bio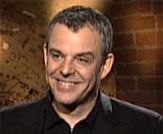 DANNY HUSTON
Date of Birth: May 14, 1962 The illegitimate son of Academy Award-winning director John Huston and the half-brother of Angelica Huston, Danny Huston was born to Zoe Sallis in Rome. He followed in his father's footsteps in 1984, when he directed the main title sequence for the feature film
Under the Volcano
. He continued directing both for TV and film until 1995, when at 32, he decided to give acting a try and played a small role in
Leaving Las Vegas
, starring Nicolas Cage. Since then he has appeared in a variety of roles in both independent films and Hollywood movies such as
Timecode
(2000);
Ivansxtc
(2000), for which he received an Independent Spirit Award nomination for Best Male Lead;
21 Grams
(2003) starring Benicio Del Toro, Sean Penn and Naomi Watts;
The Aviator
(2004) starring Leonardo DiCaprio, and
The Number 23
(2007) with Jim Carrey. In 2010, he played the role of Poseidon in
Clash of the Titans
and reprised his role in the sequel,
Wrath of the Titans
(2012).
More recently, he starred in Tim Burton's Golden Globe-winning Big Eyes (2014), Ryan Murphy's series American Horror Story, the thriller All I See Is You (2016) with Blake Lively, and Wonder Woman (2017) with Gal Gadot.
Divorced from actress Virginia Madsen, Huston married Katie Jane Evans in 2001. Their daughter Stella was born in 2002, but by 2007, the marriage fell apart. Their divorce was never finalized, because Katie Jane committed suicide in 2008.
Filmography:
Wonder Woman (2017)
Newness (2017)
All I See Is You (2016)
Frankenstein (2015)
Pressure (2015)
Big Eyes (2014)
Stolen (2012)
Boxing Day (2012)
Two Jacks (2012)
Wrath of the Titans (2012)
Playoff (2011)
A Monster in Paris (2011)
1320 (2011)
The Warrior's Way (2010)
Made in Dagenham (2010) (voice)
The Conspirator (2010)
Robin Hood (2010)
The Warrior's Way (2010)
Clash of the Titans (2010)
Edge of Darkness (2010)
Boogie Woogie (2009)
X-Men Origins: Wolverine (2009)
The Laundry Warrior (2008)
The Kreutzer Sonata (2008)
How to Lose Friends & Alienate People (2008)
30 Days of Night (2007)
I Really Hate My Job (2007)
The Number 23 (2007)
Fade to Black (2006)
Children of Men (2006)
Alpha Male (2006)
Marie Antoinette (2006)
The Constant Gardener (2005)
Alpha Male (2004)
The Aviator (2004)
Birth (2004)
Silver City (2004)
21 Grams (2003)
The Bacchae (2002)
Torture TV (2002)
Hotel (2001)
Eden (2001)
Ivansxtc (2000)
Timecode (2000)
Rockin' Good Times (1999)
Susan's Plan (1998)
Spanish Fly (1998)
Anna Karenina (1997)
Leaving Las Vegas (1995)
<< back