View Full Site
Dave Bautista Bio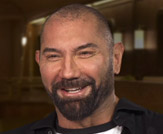 Dave Bautista
Date of Birth: January 18, 1969
Born in Washington, D.C., David Michael Bautista Jr. was made of tough stuff. His family lived in poverty and by the time he was nine years old, three murders occurred right on his front lawn. Dave earned a bad boy and tough reputation early on, starting at 13 with auto theft. His family life did not get easier and by 17 he was on his own, supporting himself by working as a bouncer and lifeguard before he decided on a bodybuilding career.
Opportunity came in the form of 2002's WWE Smackdown! where he was known as Deacon Batista. Signing with Raw, he was renamed Dave Batista and given the nickname "The Animal." Dave published his autobiography, Batista Unleashed, in 2007 and credits it with helping heal hurts between himself and his ex-wife Angie, with whom he has two daughters. In 2010, the public saw the last of "The Animal," as he announced to audiences, "I quit!" during an episode of Raw. Dave went on to explore mixed martial arts and won against Vince Lucero with a TKO in an MMA fight on October 6, 2012.
Dave began making guest appearances on television series starting in 2005, including episodes of Smallville and Chuck. He appeared in the direct-to-video 2012 The Scorpion King 3: Battle for Redemption and played Diaz in the 2013 movie Riddick. He's also done voice work for video games, as his fighting character, Batista, for WWE and OVW. Dave's biggest film role to date may be his character Drax the Destroyer in the 2014 movie Guardians of the Galaxy, alongside Zoe Saldana, his Riddick co-star Vin Diesel, Benicio Del Toro and Glenn Close.
Most recently, he starred in the Bond film Spectre (2015) and Guardians of the Galaxy Vol. 2 (2017).
Filmography:
Avengers: Infinity War (2018)
Blade Runner 2049 (2017)
Guardians of the Galaxy Vol. 2 (2017)
Bushwick (2017)
Warrior's Gate (2016)
Kickboxer: Vengeance (2016)
Spectre (2015)
Guardians of the Galaxy (2014)
Riddick (2013)
The Man with the Iron Fists (2012)
The Scorpion King 3: Battle for Redemption (2012)
House of the Rising Sun (2011)
<< back