View Full Site
David Krumholtz Bio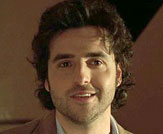 DAVID KRUMHOLTZ
Date of Birth: May 15, 1978
David Krumholtz was born in Queens, New York to dental assistant Judy and postal worker Michael. His mother was born in Hungary and moved to the United States in 1956. David's father is of Polish origin.
Mainstream audiences got their first look at David when he played Bernard the Elf alongside Tim Allen in The Santa Clause. In a Reddit AMA (Ask Me Anything), David was asked if it was weird being Jewish and playing a Christmas Elf. "Jesus Christ, no." he answered. While filming The Santa Clause, David and Tim Allen were surrounded by child actors who still believed in Santa Claus. To accommodate them, David and Tim stayed in character in between takes.
When the time came for Disney to make The Santa Clause 3, David was starring in the hit television series Numb3rs. Because of the conflict between the two engagements, Bernard the Elf does not appear in The Santa Clause 3.
In 1999 David had the opportunity to work alongside Joseph Gordon-Levitt and Heath Ledger in 10 Things I Hate About You. David and Joseph really bonded while shooting. "Joe and I became really close. We bought a drum set, one of those rubber Yamaha drum sets together, and Joe taught me how to play on the drums," David told Reddit.
David is a thyroid cancer survivor. He was diagnosed in 2011 and cured in 2012. His thyroid issues have been linked to his weight gain in recent years and in order to beat the cancer, his thyroid had to be removed, which means he has to work very hard not to gain weight.
David married fellow actor Vanessa Britting in 2010, two years after he proposed to her in Paris in 2008. Fellow actor Seth Rogen was his groomsmen, as was Jay Baruchel. Their daughter Pemma Mae Krumholtz was born in 2014. He tweeted that his daughter was "the girl of my dreams."
In 2016, David starred in Sausage Party. He told Coming Soon, "I'll be honest with you: It might be the funniest movie of all-time. I know that's quite a lofty prediction, I understand, and I'm not one to make those kind of predictions. It was the funniest script I've ever read, and the stuff I've seen is just absolutely brilliant."
Sausage Party wasn't the first time David and Seth Rogen had collaborated. The two wrote a screenplay for Universal in which both actors would play rappers. David has said that while the script has potential, it still needs a major rewrite. With a career that shows no signs of stopping, and a family to take care of, he's unsure of when the screenplay will be completed, if ever.
Filmography:
Ghost Team (2016)
Casual Encounters (2016)
Sausage Party (2016)
Hail, Caesar! (2016)
I Saw the Light (2015)
The Judge (2014)
Tuna (2013)
This Is the End (2013)
The Big Ask (2013)
A Very Harold & Kumar 3D Christmas (2011)
Mr. Popper's Penguins (2011)
I Love You, Man (2009)
Harold & Kumar Escape from Guantanamo Bay (2008)
Demption (2008)
Walk Hard: The Dewey Cox Story (2007)
Battle for Terra (2007)
Superbad (2007)
Live! (2007)
Tenacious D in The Pick of Destiny (2006)
Bobby (2006)
The Nail (2006)
American Storage (2006)
Serenity (2005)
Guess Who (2005)
My Suicidal Sweetheart (2005)
Ray (2004)
Harold & Kumar Go to White Castle (2004)
Looking for Kitty (2004)
Kill the Poor (2003)
Scorched (2003)
Cheats (2002)
The Santa Clause 2 (2002)
You Stupid Man (2002)
Big Shot: Confessions of a Campus Bookie (2002)
According to Spencer (2001)
Two Can Play That Game (2001)
Sidewalks of New York (2001)
The Mexican (2001)
How to Kill Your Neighbor's Dog (2000)
Liberty Heights (1999)
10 Things I Hate About You (1999)
Slums of Beverly Hills (1998)
The Ice Storm (1997)
The Santa Clause (1994)
Addams Family Values (1993)
Life with Mikey (1993)
<< back