View Full Site
David Strathairn Bio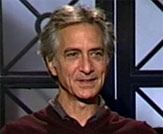 DAVID STRATHAIRN
Date of Birth: January 26, 1949
Born in San Francisco, Strathairn, believe it or not, attended the Ringling Brothers Clown College. He also attended Williams College where he befriended actor/writer/director John Sayles and has appeared in many of his friend's films, including Sayles' directorial debut, The Return of the Secaucus Seven (1980).
In college, Strathairn became interested in theater, particularly with experimental theater, while studying there. After graduation, Strathairn set out to visit his grandfather, who was then living in the Everglades, in Florida, but his grandfather passed away while he was en route. Finding himself in Florida without plans for work or further study, Strathairn joined Barnum & Bailey Circus's Clown College, which is also located in Florida. Strathairn completed a training course and took a job as one half of a Siamese twin in a traveling circus troupe. After about six months, his employment came to an abrupt end when he began to experiment with his appearance.
Strathairn then moved to Glens Falls, New York, where he helped start a children's theater. During the summers, he hitchhiked around the United States and performed with various theater groups, and while working in New Hampshire, Strathairn ran into his old college acquaintance, John Sayles. A few years after their chance meeting in New Hampshire, Sayles cast Strathairn in his first feature film. The film was about a reunion of college friends who had protested the Vietnam War in the late 1960s and early 1970s, is said to have been the inspiration behind the more commercially successful film The Big Chill (1983). Strathairn next played the supporting role of Wesley in the director Mike Nichol's Silkwood (1983), which tells the true story of a woman who called attention to dangerous practices at a nuclear power plant in Oklahoma and who died under mysterious circumstances. After supporting roles in the films Enormous Changes at the Last Minute (1983) and Lovesick (1983), Strathairn was cast in his second Sayles film, The Brother from Another Planet (1984), in which he played a bounty hunter from outer space. In the mid-1980s Strathairn also became familiar to television audiences with the role of Moss Goodman in the series The Days and Nights of Molly Dodd. Strathairn's character was the heroine's boss, as well as one of her several admirers.
In 1987, Strathairn played the role of Sid Hatfield in yet another John Sayles project—Matewan, a drama about the organization of a labor union in Appalachia. Strathairn's next Sayles film was City of Hope (1991), in which he played a homeless man named Asteroid. For his work in the film, Strathairn won an Independent Spirit Award for best supporting male actor in 1992.
During the 1990s, Strathairn appeared in films such as A League of Their Own (1992), Passion Fish (1992), The Firm (1993), The River Wild(1994), Losing Isaiah (1995), Dolores Claiborne (1995), L.A. Confidential (1997), Simon Birch (1998), and A Midsummer Night's Dream (1999).
In 2006, Strathairn received nominations from the BAFTAs, the Golden Globes and the Academy Awards for his work in Good Night, and Good Luck (2005). Some of his more popular titles since then include The Bourne Ultimatum (2007), The Spiderwick Chronicles (2008), The Whistleblower (2010), The Bourne Legacy (2012) and Lincoln (2012). More recently, he starred in Godzilla (2014), The Second Best Exotic Marigold Hotel (2015), and American Pastoral (2016).
Strathairn lives in Poughkeepsie, New York, with his wife, Logan, and their two sons.
Filmography:
American Pastoral (2016)
Louder than Bombs (2015)
The Debt (2015)
The Second Best Exotic Marigold Hotel (2015)
Godzilla (2014)
Hemingway & Gellhorn (2013)
Lincoln (2012)
The Bourne Legacy (2012)
No God, No Master (2012)
The Whistleblower (2010)
The Tempest (2010)
Howl (2010)
The Uninvited (2009)
The Spiderwick Chronicles (2008)
The Bourne Ultimatum (2007)
My Blueberry Nights (2007)
Racing Daylight (2007)
Fracture (2007)
We Are Marshall (2006)
The Sensation of Sight (2006)
Heavens Fall (2006)
Steel Toes (2006)
The Notorious Bettie Page (2005)
Good Night, and Good Luck. (2005)
Missing in America (2005)
Twisted (2004)
The Root (2003)
Blue Car (2002)
Speakeasy (2002)
Ball in the House (2001)
Harrison's Flowers (2000)
A Good Baby (2000)
A Map of the World (1999)
Limbo (1999)
A Midsummer Night's Dream (1999)
The Giraffe (1998)
Simon Birch (1998)
With Friends Like These...(1998)
The Climb (1998)
Bad Manners (1997)
L.A. Confidential (1997)
Song of Hiawatha (1997)
Mother Night (1996)
Home for the Holidays (1995)
Dolores Claiborne (1995)
Losing Isaiah (1995)
The River Wild (1994)
A Dangerous Woman (1993)
The Firm (1993)
Lost in Yonkers (1993)
April One (1993)
Passion Fish (1992)
Sneakers (1992)
Bob Roberts (1992)
A League of Their Own (1992)
Big Girls Don't Cry... They Get Even (1992)
City of Hope (1991)
Memphis Belle (1990)

<< back