View Full Site
Denzel Washington Bio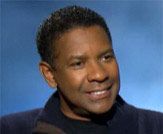 DENZEL WASHINGTON
Date of Birth: December 28, 1954
"It was never my dream to be famous," says this Mount Vernon, New York native. "I didn't start acting to be a movie star. I started in the theater and my desire was to get better at my craft. It's still my desire. I don't consider myself a movie star, nor do I really have the desire to be one. I'm just an entertainer."
After graduating from high school, Washington enrolled at New York's Fordham University, where he began studying journalism. He still uses that early journalism training to define his characters. Acting, in a way, is like investigative reporting," he says. "You search out your character."
The acting bug soon hit when he starred in several student drama productions. After completing his B.A. in 1977, Washington headed off to San Francisco to take advantage of a scholarship to the American Conservatory Theater. But after only one year of theater training, he dropped out to launch his professional career. Some stage and TV work came his way until he sizzled in A Soldier's Story, earned an Oscar nomination for Cry Freedom and then won a Best Supporting Actor Oscar for his great performance in Glory.
At the start of the new millennium, Washington continued to pour out award-winning performances, including his Academy Award-nominated The Hurricane (1999) and his Oscar-winning performance as Best Actor in Training Day (2001). For Antwone Fisher, Washington not only took on a role in the film based on a true story, but stepped behind the camera to make his directorial debut. His effort earned him a 2003 Black Reel award as Best Director.
In 2007 Washington was given a BAFTA award for Excellence in Film. Ironically, even though he was nominated for a Black Reel in 2010 for his work in The Taking of Pelham 1 2 3 (2009), the movie was a bomb at the box office and was one of the reasons he earned the dubious distinction of being listed as the third most overpaid actor in America on Forbes magazine's 2010 list. Some of Washington's blockbusters include The Book of Eli (2010), Unstoppable (2010), Safe House (2012), and Flight (2012), for which he received his sixth Oscar nomination. He followed this up with roles in 2 Guns (2013), The Equalizer(2014), The Magnificent Seven (2016), and Fences (2016), which he also directed.
His work in Fences earned him numerous nominations for Best Performance By an Actor in a Lead Role, including nominations from the Academy Awards, BAFTA Awards, Golden Globe Awards and the SAG Awards. His film also earned a Best Picture nomination from the Academy Awards.
Washington and his wife Pauletta are the parents of four children: John David, Katia, and twins Malcolm and Olivia.
* 1990 Supporting Actor Oscar for Glory.
* 2002 Best Actor Oscar for Training Day.
Filmography:
The Equalizer 2 (2017)
Fences (2016)
The Magnificent Seven (2016)
The Equalizer (2014)
2 Guns (2013)
Flight (2012)
Safe House (2012)
Unstoppable (2010)
The Book of Eli (2010)
The Taking of Pelham 1 2 3 (2009)
The Great Debaters (2007)
American Gangster (2007)
Deja Vu (2006)
Inside Man (2006)
The Manchurian Candidate (2004)
Man on Fire (2004)
Out of Time (2003)
Antwone Fisher (2002)
John Q (2001)
Training Day (2001)
Remember the Titans (2000)
The Hurricane (1999)
The Bone Collector (1999)
The Siege (1998)
He Got Game (1998)
Fallen (1998)
Courage Under Fire (1996)
The Preacher's Wife (1996)
Crimson Tide (1995)
Devil in a Blue Dress (1995)
Virtuosity (1995)
Much Ado About Nothing (1993)
The Pelican Brief (1993)
Philadelphia (1993)
Malcolm X (1992)
Mississippi Masala (1991)
Ricochet (1991)
Heart Condition (1990)
Mo' Better Blues (1990)
Glory (1989)
The Mighty Quinn (1989)
For Queen and Country (1988)
Cry Freedom (1987)
Power (1986)
A Soldier's Story (1984)
Carbon Copy (1981)

<< back