View Full Site
Dermot Mulroney Bio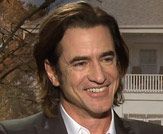 DERMOT MULRONEY
Date of Birth: October 31, 1963
Raised in Alexandria, Virginia, Dermot Mulroney was the son of a lawyer. He grew up with three brothers, Sean, Conor and Kieran (now also an actor) and a sister named Maura. Mulroney learned to play classical cello and appeared in local children's theater productions from an early age. He made his high school stage debut in a play called Are Teachers Human? at George Washington High School. He was unusually short for most of his years in high school and was known for having a sharp, if not very nice, sense of humor. He went on to attend Northwestern University in Chicago, graduating in 1985 with a degree in film, theater, and music.
His squeaky-clean Irish good looks brought him a steady diet of roles in made-for-TV movies like the incest-themed Sin of Innocence (1986), the teen pregnancy-themed Daddy (1987), and the anti-drug diatribe The Drug Knot (1986).
Mulroney was rescued from afterschool specials with a feature-film assignment playing Roddy McDowell's son in the easily forgotten Western, Sunset (1988). Later on that year, he was given a career breaking role in the Brat Pack-ish ensemble cast of the western Young Guns. Mulroney was given the opportunity to eschew personal cleanliness and portray a coarse character named "Dirty Steve."
Following his appearance in Young Guns, Mulroney ducked into independent films, surfacing in a string of little-seen, if critically respected films like Longtime Companion (1989); Bright Angel (1990), in which he played Sam Shepard's dead ringer of a son; and Where the Day Takes You (1992). His gritty portrayal of a teen hustler's fringe existence on L.A.'s mean streets in the latter film garnered him the Seattle Film Festival's Best Actor Award.
It wasn't until 1993 that luck would turn to Mulroney's favor. Cast in such films as Point of No Return afforded him a high-profile opportunity to hone his skills as a puppy-dog boyfriend; and the little-seen The Thing Called Love gave him his first chance to sing on-screen (he has since contributed his pipes to Kansas City and My Best Friend's Wedding). Also that year, Mulroney and River Phoenix collaborated with Sam Shepard on his western ghost story Silent Tongue.
The following year offered little in the way of standout opportunities. But after the bad western flick, Bad Girls, he was able to redeem himself with strong performances in films like Copycat and How To Make an American Quilt; and appropriately acerbic as the eye patch-wearing cinematographer in Living in Oblivion.
In 1996, Mulroney was playing larger parts as Jennifer Jason Leigh's thuggish husband in Robert Altman's Kansas City, and joined Kyle MacLachlan and Elisabeth Shue in the paranoiac power-outage flick The Trigger Effect.
He next appeared in Roland Joffe's "sarcastic thriller" Goodbye, Lover (1999) with Patricia Arquette and Mary-Louise Parker. Since then, he has worked in a number of acclaimed films such as The Safety of Objects (2001) with Glenn Close and About Schmidt (2002) starring Jack Nicholson, and garnered even more female fans with his sexy turn as a hustler with a heart of gold in the romantic comedy The Wedding Date (2005). Some of his other films include playing the role of Colonel Schwarzkopf alongside Leonardo DiCaprio in the biopic J. Edgar (2011), as well as the thriller The Grey (2012) with Liam Neeson.
His most recent films include Stoker (2013), Jobs (2013), the Oscar-nominated August: Osage County (2013), Insidious: Chapter 3 (2015), Dirty Grandpa (2016) and the thriller Lavender with Abbie Cornish (2016).
When not on set, Mulroney occupies his time playing the cello, mandolin and the dobro in an eclectic septet that includes his brother Kieran. He has a son with his ex-wife, actress Catherine Keener, whom he divorced in December 2007 and a daughter, Mabel Ray, born April 2008, with his current wife, Tharita Catulle.
<< back