View Full Site
Djimon Hounsou Bio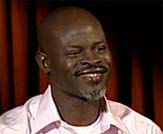 DJIMON HOUNSOU
Date of Birth: April 24, 1964
Born in the town of Cotenou, in Benin, Africa, Djimon Hounsou fell in love with movies when he was a boy, going to the local theater every Wednesday to watch American westerns. The youngest of five children, he was sent by his parents to live with his oldest brother in Lyons, France to attend school there when he was 13, but he ran away and lived on the streets of Paris. For several years he was homeless, sleeping under bridges, searching garbage cans for food, begging for money and washing in a public fountain near the Pompidou Centre. He doesn't like to talk about that time, but says, "I thought I could make my dreams come true in Paris but things always seemed to work against me."
That is, until he was discovered by French fashion designer Thierry Muglar. Muglar was looking for a complete unknown to be his new model and happened to see some photos that had been taken of Hounsou. The young man not only went on to become a top male model in Paris, but wound up travelling the world for various modelling jobs. His career took a turn in 1989 when Madonna saw him modelling in Los Angeles and asked him to be in her Express Yourself video. Although he didn't need to speak English for the shoot, Hounsou realized it would be a good idea to master the language if he wanted to move on to films and television work. Watching The Learning Channel, A&E and The Discovery Channel helped him to expand his vocabulary.
In the meantime, Djimon appeared in more music videos for artists such as Steve Winwood, Paula Abdul and Janet Jackson. In 1990, he landed his first television role as a nightclub doorman on the television series Beverly Hills 90210. By 1996, he had only landed a few minor roles in small budget films when he suddenly got a call from Steven Spielberg. It turned out that the director had seen Hounsou's videos and wanted him to audition for a role in his new film, Amistad (1997). Hounsou won the role of Joseph Cinqué, the leader of a slave revolt. The part was his big breakthrough, earning him a Golden Globe nomination.
In 1999, Djimon landed a recurring role on the hit TV series E.R., playing Mobalage Ikabo in six episodes. His next big role in a feature film came when he played Juba in Gladiator (2000), starring Russell Crowe. Hounsou had no trouble finding work after that. In 2001 his command of French came in handy when he played a supporting role in the French film Le Boulet (2002). In The Four Feathers (2002), he played Abou Fatma, who helps Heath Ledger make it through the desert to rescue his friends. He also appeared in the western-themed film Muraya (2002), starring Michael Madsen and Juliette Lewis. In 2004, his career heated up when he received an Academy Award nomination for his role as a man with AIDS who is befriended by two young girls in In America (2003). His second nomination came just a few years later, for his critically-acclaimed performance in Blood Diamond (2006).
Most recently he appeared in Guardians of the Galaxy (2014) with Chris Pratt, Furious 7 (2015) alongside Vin Diesel, The Legend of Tarzan (2016) alongside Alexander Skarsgård and Margot Robbie, and King Arthur: Legend of the Sword (2017) with Charlie Hunnam.
Djimon lives in Los Angeles.
FILMOGRAPHY:
How to Train Your Dragon 3 (2018)
Blazing Samurai (2017)
King Arthur: Legend of the Sword (2017)
Same Kind of Different as Me (2017)
The Legend of Tarzan (2016)
Air (2015)
Furious 7 (2015)
Seventh Son (2015)
The Vatican Tapes (2015)
Guardians of the Galaxy (2014)
How to Train Your Dragon 2 (2014)
Baggage Claim (2013)
Special Forces (2012)
The Tempest (2009)
Push (2009)
Never Back Down (2008)
Eragon (2006)
Blood Diamond (2006)
The Island (2005)
Beauty Shop (2005)
Constantine (2005)
Blueberry (2004)
In America (2003)
Lara Croft: Tomb Raider - The Cradle of Life (2003)
Biker Boyz (2003)
Muraya (2002)
The Four Feathers (2002)
Le Boulet (2002)
Gladiator (2000)
Deep Rising (1998)
The Small Hours (1997)
Ill Gotten Gains (1997)
Amistad (1997)
Stargate (1994)
Unlawful Entry (1992)
Without You I'm Nothing (1990)
<< back