View Full Site
Dustin Hoffman Bio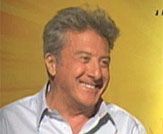 DUSTIN HOFFMAN
Date of Birth: August 8, 1937
Born in Los Angeles, Dustin Hoffman was named after actor Dustin Farnum. His father was in the entertainment business, but worked behind the scenes as a set dresser and prop supervisor at Columbia Studios. When the Depression hit, the Russian Jew was forced to work as a furniture salesman. Hoffman's mother also left her theatrical aspirations to raise Hoffman and his older brother.
Performing came naturally to Hoffman, who remembers clowning around for the benefit of his elementary school classmates. Hoffman's first formal acting experience was the role of Tiny Tim in a junior high school production of A Christmas Carol. By the time he arrived at Los Angeles High School, however, Hoffman had been stricken with the teenage terrors of braces and bad acne, so he mostly kept to himself. After graduation, he bounced around between the Los Angeles Conservatory of Music and Santa Monica City College, where a professor re-ignited his interest in theater.
Hoffman started taking classes at the famed Pasadena Playhouse, where he struck up a friendship with a fellow student Gene Hackman. The two were voted "Least Likely to Succeed." Dustin and Gene went to New York to seek work, and boarded together until Hoffman could find his own place. When he did find a dwelling he shared it with other actors, including Robert Duvall. Life as a struggling actor took up the next few years of his life as he worked at an assortment of odd jobs to pay the bills. Some of his jobs included typist, janitor, waiter, Times Square headline crier and toy salesman.
In 1960, Hoffman got his first paying role in a Sarah Lawrence College production of Yes Is for a Very Young Man, and he made his Broadway debut at the Playhouse Theater the very next year, in A Cook for Mr. General. Over the next six years he took Broadway roles whenever he could get them and also appeared in episodes of such television series as The Naked City and The Defenders.
His first feature film came in 1967 when he appeared in Tiger Makes Out. He next tried for a part in The Graduate, but his audition went poorly. Fortunately for Hoffman, director Mike Nichols was familiar with his stage work and eventually offered him the role in spite of his inauspicious first reading. Though The Graduate was a monstrous commercial success and earned him his first Golden Globe award, it was Hoffman's next film, Midnight Cowboy, that earned him a Best Actor Oscar nomination.
The next ten years marked a period of artistic triumphs and personal turmoil in Hoffman's life. He achieved four Oscar nominations before grabbing the golden statuette for his role in Kramer vs. Kramer, as well as his second Golden Globe award. During this time he was having problems with his marriage to Anne Byrne, which ended in divorce in 1980. He also found himself embroiled in bitter lawsuits against First Artists and Warner Brothers. The suit cost Hoffman several close personal friendships and popularized rumors of temperament and obsessive perfectionism that had begun to proliferate in his wake.
Soon after Dustin's divorce, he married the daughter of an old family friend, Lisa Gottsegen. Together they have four children. In 1981, Hoffman's mother died from heart problems and Hoffman turned to his family to get through the painful experience.
Though he only made four films during the eighties, Hoffman collected a Best Actor Oscar for one of them, Rain Man (and his fifth Golden Globe award—the third and fourth were for Tootsie and the TV production Death of a Salesman). He also made a dramatic return to the stage with widely acclaimed performances in the title roles of Death of a Salesman (on Broadway) and The Merchant of Venice (in London's West End).
The early '90s were filled with mediocre films such as Dick Tracy and Hero, but since then he has had strong performances in films such as Moonlight Mile (2002) and Finding Neverland (2004). In 2009, he was nominated for a 13th Golden Globe for his work in Last Chance Harvey (2008). The same year, he won a "Best Voice Acting in an Animated Feature" Annie award for playing Shifu in Kung Fu Panda (2008). He reprised the role in Kung Fu Panda 2 (2011). More recently, he starred in The Cobbler (2015) and Boychoir (2015).
.
* 1988 Actor in a Leading Role Oscar winner for Rain Man.
<< back