View Full Site
Ed Harris Bio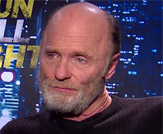 ED HARRIS
Date of Birth: November 28, 1950
Edward Allen Harris was born in Tenefly, New Jersey. He was a football star in high school, which led to a scholarship to Columbia University in New York. He dropped out in his second year and moved to Oklahoma with his parents. There he enrolled at Oklahoma University to study drama but dropped out yet again.
Harris played a few bit parts in local theaters and finally got his first standing ovation for playing King Arthur in Camelot. Convinced he should pursue his acting career further, he moved to Los Angeles where he completed a Bachelor of Fine Arts at the California Institute of the Arts.
He continued to work on the stage and appeared in the classics A Streetcar Named Desire and The Grapes of Wrath. He migrated to the big screen as a killer in Borderline starring Charles Bronson. He later reprised his King Arthur role in Knightriders, where horses were replaced by motorcycles.
In 1983, Harris played astronaut John Glenn in The Right Stuff, his first commercial success, putting his picture on the cover of Newsweek.
Since then, Harris has displayed a prodigious talent for playing a broad range of characters. In 1995 alone he was a serial killer in Just Cause, a hero in Apollo 13, and the cryptic conspirator E. Howard Hunt in Nixon.
He also starred in The Abyss, directed by James Cameron of Titanic fame. Other credits include playing Julia Roberts' boyfriend in Stepmom (1998), Major König in Enemy at the Gates (2001) alongside Jude Law and playing a high school football coach who takes an autistic man (played by Cuba Gooding Jr.) under his wing in Radio (2003). Harris has been nominated four times for an Academy Award for his work in: Apollo 13 (1995), The Truman Show (1998), Pollock (2000) and The Hours (2002). He has also been nominated for four Golden Globes, and won in 1999 for The Truman Show. He appeared as David Englangder in the thriller Man on a Ledge (2012) and Sheriff Dick Tipton in the drama Virginia (2012). Harris appeared in Pain & Gain (2013) alongside Mark Wahlberg and Dwayne Johnson. More recently, he appeared in The Face of Love (2014) alongside Robin Williams, Run All Night (2015) with Liam Neeson, In Dubious Battle with James Franco (2016), and Rules Don't Apply (2016).
Harris has been married to actress Amy Madigan since 1983. They have one child together.
Filmography (actor):
Geostorm (2017)
The Adderall Diaries (2016)
Rules Don't Apply (2016)
In Dubious Battle (2016)
Cymbeline (2015)
Run All Night (2015)
The Face of Love (2014)
Frontera (2014)
Planes: Fire & Rescue (2014)
Snowpiercer (2014)
Pain & Gain (2013)
Man on a Ledge (2012)
Virginia (2012)
The Way Back (2011)
Appaloosa (2008)
Cleaner (2008)
Copying Beethoven (2007)
Gone Baby Gone (2007)
National Treasure: Book of Secrets (2007)
A History of Violence (2005)
Winter Passing (2005)
Tibet: Cry of the Snow Lion (2004)
Buffalo Soldiers (2003)
The Human Stain (2003)
Masked and Anonymous (2003)
Radio (2003)
The Hours (2002)
A Beautiful Mind (2001)
Pollock (2001)
Enemy At The Gates (2000)
The Prime Gig (2000)
Third Miracle (1999)
Stepmom (1998)
The Truman Show (1998)
Apollo 13 (1995)
The Firm (1993)
Creepshow (1982)
Filmography (Director):
Pollock (2001)
<< back