View Full Site
Edward Norton Bio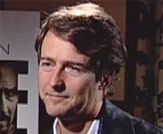 EDWARD NORTON
Date Of Birth: August 18, 1969
Edward Norton is the eldest of three children born to a lawyer father and a teacher mother. He first began acting at the age of five and attended a school for theatrical arts in the Baltimore area. Following undergraduate studies at Yale, he worked at the Enterprise Foundation in Japan, an organization founded by his grandfather that develops low-income housing. After moving back to the States he did the auditioning rounds while working as a waiter before being cast in the world premiere production of Edward Albee's stage play, Fragments. It wasn't long after that when Hollywood came calling.
"I tend to look at a part and wonder if 10 other young men can do it," Edward says. "I look for something I can bring a particular take to. But I don't like to talk about it."
This Yale University history major from Columbia, Maryland, doesn't have to. Talk about it, that is. He lets his acting do the talking for him. And it spoke volumes in his debut screen performance when he stole the movie Primal Fear (1996) out from under Richard Gere's nose. Although the movie as a whole wasn't very well-received, Edward was stunning as the psychopathic killer who gets away with murder. He even got an Oscar nomination for his efforts. Suddenly he was a hot commodity.
But Edward doesn't want you to know more than he's willing to let you in on. "Every little thing that people know about you as a person impedes your ability to achieve that kind of terrific suspension of disbelief that happens when an audience goes with an actor and character he's playing. Anybody can ask me anything, but I firmly believe I have the right to answer or not."
Edward has since gone on to star in several notable films like Rounders (1998), Keeping the Faith (2000), The Italian Job (2003), the lead role of Bruce Banner in The Incredible Hulk (2008), Scout Master Ward in Moonrise Kingdom (2012) and retired Colonel Eric Byer in The Bourne Legacy (2012). He also appeared in the documentary film, Salinger (2013).
Edward received his second Academy Award nomination for his supporting role in Birdman or (The Unexpected Virtue of Ignorance) (2014).
Most recently, Edward lent his voice to the animated comedy Sausage Party (2016), and starred alongside Will Smith in the drama Collateral Beauty (2016).
Edward has been linked romantically to Courtney Love and Selma Hayek. An anti-smoking advocate, he refuses to smoke in his films.
Filmography:
Isle of Dogs (2018)
Collateral Beauty (2016)
Sausage Party (2016)
Birdman or (The Unexpected Virtue of Ignorance) (2014)
The Grand Budapest Hotel (2014)
Salinger (2013)
The Bourne Legacy (2012)
Moonrise Kingdom (2012)
Stone (2010)
Leaves of Grass (2009)
The Invention of Lying (2009)
Motherless Brooklyn (2008)
Pride and Glory (2008)
Motherless Brooklyn (2008)
The Incredible Hulk (2008)
Pride and Glory (2007)
The Painted Veil (2006)
The Illusionist (2006)
Down in the Valley (2005)
Kingdom of Heaven (2005)
The Italian Job (2003)
The 25th Hour (2002)
Red Dragon (2002)
Frida (2002)
Death to Smoochy (2001)
Hart's War (2001)
The Score (2001)
Keeping the Faith (2000)
Fight Club (1999)
American History X (1998)
Rounders (1998)
The People Vs. Larry Flynt (1996)
Primal Fear (1996)
Everyone Says I Love You (1996)
<< back